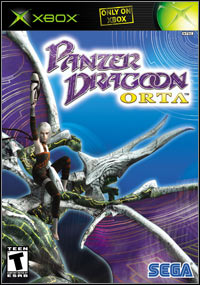 game language: English
game release date for XBOX:
12January2003
Introducing the grandeur of the dramatic world with so called Dramatic shooting...
Revolutions of Panzer Dragoon is not only about its graphics and sounds.
Panzer Dragoon is back with sophisticated game system and much volume of the game contents which are fully powered by Xbox!
After thousands of years of the post-civilization, the whole continent was governed and devastated by Bio-Engineered Creature which would be created from the gene reconstruction of the biological weapon. A player serves as a girl ORTA of a mystery, rides on the back of the strongest biological weapon a dragon, and runs in the sky in the distorted world!
An enemy comes to attack from every directions. Player can check out the site of enemies up on the radar at the upper right of a screen. Player 360's viewpoint change is available by pulling the left trigger and a right trigger! A main attack is the shotgun which ORUTA has, and homing laser which a dragon releases. Automated gun-shot enables player to shoot down enemy bullet. On the other hand, homing laser is useful to lock onto an enemy in the distance for attack. The Dolby Digital 5.1ch surround sound is also supported.
Furthermore, Dragon got a wide variety of capabilities such as Berserk attack which all bursts the accumulated energy, adjusting system of flying speed and 3 different types of morphing. The main mission of the game is to break through a crisis, making full use of each dragon ability, and to bring all mysteries and fate to an end. Real-time-based storyline will lead as the game moves on to futher level. -- Panzer Dragoon ORTA is totally beyond the frame of only a shooting game to fight, but cutting-edge grand adventure shooting game which never experienced in any game scene before!
Here is one remarkable ability of dragon which player can take advantage of--Accerelation and slowdown by pressing the X or B button respectively. Adjusting speed of dragon is useful when fending off an enemy's attack or passing through the closing shutter quickly. Especially X button for acceleration enables player fly into an enemy for attack or speed up to catch up with enemy ahead for attack. Such attack is so called Glide Attack. Positioning of dragon is the key to defeat enemy in an effective manner. Find an enemy's weak point to attack and get yourself positioned to aim the weak spot by adjusting flying speed of dragon. It will give players more strategic method of defeating enemies in the battle scene!!
Morphing (transformation) of the dragon can be freely carried out with the Y button during a battle.
-Base Wing with well-balanced in a fighting ability
-Glide Wing with higher mobility and shooting ability
-Heavy Wing with the most sophisticated level of laser attack.
Player can enjoy strategic battle as in 3 different forms of dragon on real-time basis according to situations, such as a boss battle and an enemy who comes out in large quantities. Moreover, a dragon evolves rapidly by taking the Gene base which comes out during a battle, and there are five steps of evolution forms for every form. It is possible to reinforce one particular form of dragon with Gene base or develop well balanced advanced dragon for all 3 forms.
A main game consists of 10 episode. It got much game volume which player can challenge over a long period of time. Difficulty level for gameplay can be chosen from Easy, Normal and Hard of three stages in total. Gameplay should be easy to follow and grip a battle technique even for beginners once understand the attack system of dragon. For a Master of PDO, challenge for greater level of playing technique to get higher score or shot-down rate to be recorded. Furthermore, the sub scenario of all 12 stages will be unleashed as move forward to further game stages. For a special bonus, one of remarkable Sega Saturn Classics and very first work of Panzer series Panzer Dragoon is fully included back on Xbox with much higher resolution from the Saturn original version!
The desperate struggle in thunderstorm, the large fleet which fills the sky, the thrilled natural scene are all coming right in front of you... Precise and grand graphics use up the power of expression of Xbox to the limit of hardware literally. The soundtrack is also composed by a music staff from the previous work of Panzer Dragoon. Feel the sound and sense the scene of Panzer. Of course, the story goes by Panzer language and English subtitle text for you to follow.
A world of Panzer Dragoon ORTA has been setup based on the unique history, the ecosystem and the language which are the feature of the Panzer series to the maximum level. , and the language. These game elements are fully inherited completely and developed to the next level with more mysteries, characters and incidents are made to appear further in ORTA. To those who know the old trilogy, Encyclopedia, an Appendix, Films, and the very first work of Panzer Dragoon can be described for better understanding of Panzer world. Also, those pieces of reference will help new comer of Panzer to find the world more deeply. The Pandora box containing these data and sub scenarios is gradually unlocked as clearing a game stage.
A mysterious girl, Orta who used to be captured in the prison, and dragon to rescue her out of blue... One mystery brings another mystery to solve...We will experience both the mystery of the world and fight to find the identity of her existence and what she is in this world...The game consists of 10 stages in total. All those enemy characters, friends and landscape, the history and the world are all precious elements to feature this unique world of Panzer Dragoon ORTA. Feel the sound and drama which are to occur at 360's range of sight!
Soon you will experience intoxicating glide action on a back of dragon!
Similar games:
Age Rating
age requirements: 12+