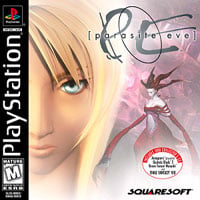 Parasite Eve
PS1
The first production by Squaresoft studio, which was addressed to adult audiences. Parasite Eve combines elements of horror with mechanics known from action games and RPGs in an innovative way.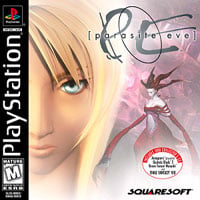 game language: English
game release date for PS1:
29March1998
The first game of Squaresoft studio designed for adults. Parasite Eve is a combination of action game and RPG maintained in a climate of horror.
Story
1997, New York. Young policeman Aya Brea witnessed the mysterious self-immolation of all those present in the building during her visit to the opera house. Only she and soloist Melissa Pearce escape life. Immediately afterwards, the artist mutates into a beast and escapes to the sewerage system. An officer starts an investigation in which her partner Daniel helps her. He must stop the mysterious Eve from further attacks on the defenceless inhabitants of the metropolis. With time he discovers surprising information about himself....
Mechanics
Parasite Eve uses elements associated so far mainly with Japanese RPGs. During the investigation, the protagonist visits various regions of New York, where she fights randomly with her opponents. The fights take place in the Active Time Bar system known from other Squaresoft productions. Players are free to move Aya around the clash area, but time stops when they choose one of the actions. Each command will reset the bar, which must be filled again before the next action can be performed. Brea has at its disposal not only several types of firearms, but also various items and special skills using PE (Parasite Energy) points. Individual guns and rifles can be modified and improved by adding various effects.
The special "EX game" mode is unlocked when the game is finished. This is a more difficult variation of the standard module, in which the opponents encountered are much stronger. Players can, however, from the beginning use the equipment that they took to the final match in the basic mode, as well as use reinforced versions of weapons and armour. A unique element of the "EX game" is the Chrysler building - 77th floor structure, in which a number of challenges await.
Technical issues
Parasite Eve is the first Squaresoft production for adult customers. The title is often compared to the Resident Evil series, although it offers much more complex mechanics than the Resident Evil series. The authors of the game include creators responsible for such hits as Final Fantasy, Chrono Trigger or Front Mission, including Hironobu Sakaguchi and Tetsuya Nomura. The game is distinguished by an excellent soundtrack composed by Yoko Shimomura.
Please let us know if you have any comments or suggestions regarding this description.

Game score 9.1 / 10 calculated out of 29 players' votes.
Age Rating
age requirements: 18+