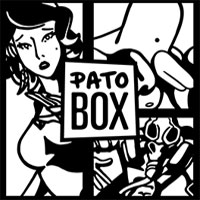 Pato Box is an adventure boxing game set in a surreal and gloomy world, presented only in black and white. The game's developer is the independent Mexican studio Bromio, which specializes in mobile games. Pato Box was financed during a crowdfunding campaign on Kickstarter in 2017.
Story
The main character of Pato Box is Primo, a boxing champion, whose head is distinguished from the crowd of other competitors by being that of a duck. Underground fights, in which the protagonist participates, are organized by an influential group called Deathflocks. However, the sponsors turn away from Primo and decide to punish him after he is defeated by the contender for the champion title. After the duel, the protagonist wakes up half-dead and bloody in one of the backstreets of the city. Found by a nurse, he comes to himself and decides to take revenge on his former employers, storming their headquarters and defeating all seven members of the organization.
Mechanics
Pato Box is a unique combination of arcade boxing game, strongly inspired by the formula of the Punch-Out! series with an adventure game with exploratory and logic elements. While playing, the main character tries to get to the top floor of Deathflocks' headquarters, beating on the way all members of the group, each of which occupies one level of the building.
The subsequent floors present us with new challenges and puzzles, and they are also kept in a characteristic theme, such as a slaughterhouse or casino. The crowning achievement of our actions are the boss fights. The devs have prepared a total of seven such duels, each of which has unique mechanical solutions. They take place in two-dimensions, and the action is observed from behind Primo's back.
Game modes
Pato Box offers two game modes. The first one is the story mode, in which we get to know the story of Primo and visit individual levels of Deathflocks' building. In the second mode, called arcade, we take part in a series of boss battles, trying to achieve the best score.
Technical aspects
Pato Box offers original three-dimensional visuals, using the expressive comic book-like style and cel-shading technique. The gameplay is accompanied by a music track with classical piano and electronic pieces inspired by the sounds of the 1980s.
Similar games:
Age Rating
age requirements: 12+
System requirements
Minimum:
Intel Core i5
2 GB RAM
graphic card Intel Iris Pro 6200 or better
2 GB HDD
Windows 7