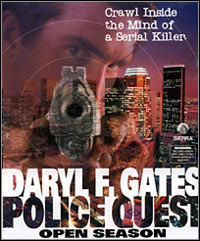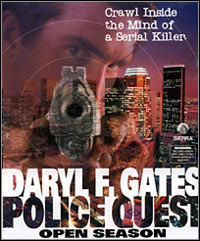 Police Quest 4: Open Season
PC
The fourth and last game in a series of famous adventures. This time the action moves to Los Angeles, where the new hero, John Carey, will investigate the brutal murder of his partner.
Police Quest 4: Open Season

Release Date PC

28November1993
Players who expected Sonny Bonds' adventures to continue after Open Season will be disappointed at the beginning of the game. When Jim Walls left the project, Sierra buried all the threads, so meticulously worked out in the previous parts of the game. This time we play the role of John Carey, a detective of the Los Angeles Assassination Department, who will lead the case of the cruel murder of his partner, Bob Hickman.
Police Quest 4 is another revolution in visual terms - it was decided to move away from cartoon style, in favour of photorealistic VGA graphics. Daryl F. Gates, a new expert in the field of police work, has also sought greater realism. The program is disgustingly brutal, every now and then massacred human corpses appear on the screen, which the most faithful fans of the series could not get through. The investigation is tedious and requires a great deal of patience, especially when it comes to collecting evidence and filling in various forms at the police station. This patent was later widely used by Sierra, e.g. in Gabriel Knight.
Open Season forever buried the adventurous nature of Sierra police games. Players were not satisfied with the changes made and were not convinced by even the most realistic so far, devotion to the nature of the detective's work. Daryl F. Gates defended himself against the charges as best he could, claiming that it was not a game of police officers and thieves as many people might think, but a brutal reality, full of cold bodies left in the gutter, or children intoxicated with drugs to death. However, the translations did not help. Although Police Quest 4 is a really interesting and interesting game, it received only negative reviews. Sierra decided not to come back to this topic anymore and focused on a simulation-stretch game in which the player would lead the S.W.A.T.
team.
Please let us know if you have any comments or suggestions regarding this description.
Last updated on 10 December 2007
Game mode: single player
User score: 5,7 / 10 based on 51 votes.
Age restrictions Police Quest 4: Open Season: 16+
Police Quest 4: Open Season System requirements
Recommended:
PC 386 25MHz
4MB RAM
VGA