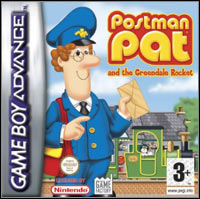 Postman Pat and the Greendale Rocket
GBA
Postman Pat and the Greendale Rocket is an adventure game with adventure elements, created for the youngest GBA console owners. Its prototype is a British animated series (Postman Pat), the beginning of which dates back to the eighties of the twentieth century.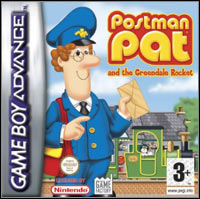 game language: English
game release date for GBA:
16February2007
Welcome to Greendale – home of the happy and friendly Postman Pat. Everyday he sets off in his little red van with his loyal but sometimes mischievous companion, Jess the cat, to deliver the mail to the townspeople. Postman Pat always has a kind word and a joke for everyone, and he is ready to lend a helping hand whenever he meets people who are in trouble. The inhabitants of Greendale are sad that the village train station has been abandoned so they decide to restore the old steam train and reopen the station. Join Pat on his route as he delivers the mail and helps his friends prepare for the grand reopening and the unveiling of the newly renovated Greendale Rocket!
Play and interact with Postman Pat, Jess and the beloved characters from Greendale including Mrs. Goggins, Ted Glen, Ajay Bains, Charlie Pringle, PC Selby, reverend Timms and the Thompson family.
Postman Pat and the Greendale Rocket is filled with adventure, humour and music. The game exercises the player's memory and recall skills, logic, problem solving as well as hand-to-eye coordination all whilst having lots of fun and learning the importance of helping others!
* 5 different levels - each of which include a separate platform phase, a mini-game and a driving phase for a total of 15 different stages!
* Upon finishing a level, Pat will be given an object that will help the villagers get the Greendale Rocket back on the tracks.
* The 5 mini-games are fun short skill-based arcade games presented by the inhabitants of Greendale.
* In the driving phases the player gets to take control of Pat's van and drives through the streets of Greendale and the surroundings and must avoid various obstacles without losing too much time.
* Graphical style true to the original Postman Pat TV series.
Similar games:
PEGI Rating