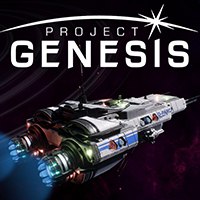 Game mode: multiplayer
Multiplayer mode: Internet

game language: English
game release date for PC:
2021
Project Genesis is a combination of a dynamic space battle simulator and FPS developed by the independent studio 8 Circuit. The game enables us to become an AI that can decide the fate of mankind. Project Genesis puts focuses on cooperation and competition between the players.
Plot
Many thousand years ago, there was an advanced civilization on Earth that mastered the technology of interstellar travel, before being destroyed by a mysterious cataclysm. Humanity, however, managed to discover the secrets hidden for centuries and also reached the stars. AI-controlled machines were sent into space to look for habitable planets. The game begins in 2134, and we play as an AI that has evolved on its own. The task assigned to us is to find and repair a colonization ship, on which the last representatives of mankind are located.
Mechanics
Project Genesis combines elements of FPS and space simulator game. As an AI, we are installed on our mother ship, but nothing stands in the way of boarding other ships in FPS mode or even taking control of them.
Ships are piloted from third-person view. However, it is not a complicated system like in 4X games. The game focuses on dynamic space fights and fast boarding actions. Project Genesis enables the players to board other ships with their avatars and even take them over. On such occasions, the game turns into a full-fledged FPS.
The devs focus on a low entry level for new players and the clarity of the interface. Therefore, both when fling ships and crossing corridors in FPS mode we have to worry about only two indicators - energy and life (in the case of a ship these are hull points). Energy is used to power our shields, weapons, and skills. The game focuses on unification - in both modes the player has two weapons available simultaneously, as well as three skills - one passive and two active.
Game mode
Project Genesis is a game trying to encourage the players to have fun and compete with each other. This is done in the Match Mode, where teams compete against each other in 3-round matches in order to achieve the goals set by the game in the required time. The final victory is won by the team that wins more fights (ties are possible).
Online game are tied together by the mechanic of seasons, which introduce thematic challenges and objects, and even factions.
Other information
Project Genesis is to become a part of Metaverse - a system developed by 8 Circuit, which combines different games, both their and their partners'. Under Metaverse, the players and developers will be able to purchase, transfer, improve, and sell game assets and tools. This is supposed to use a currency developed by the studio - 8BT Token.
System requirements
Minimum: Quad Core 2.5 GHz, 8 GB RAM, graphic card 1280 MB GeForce GTX 470 / 2 GB Radeon HD 6870 or better, Windows 7