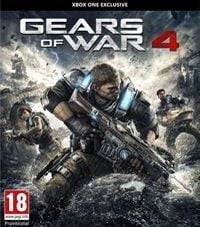 Game mode: single / multiplayer
Multiplayer mode: Internet / split screen
Gears of War 4 for PC and XONE is another installment in a series of legendary, third-person shooters set in an original, science-fiction world. The game was created by the Coalition - a Canadian developer that previously co-created Microsoft Flight. The studio took over the development of the franchise from Epic Games - a company that sold the rights to Microsoft in 2014.
Plot
Gears of War 4 is set on the Sera planet, 25 years after the events from Gears of War 3. As a consequence of the war against the Locusts, the globe has changed drastically and powerful storms have become a common occurence. Thus the humans live in special town-keeps now, which defend them against both dangerous weather conditions and creatures inhabiting the planet. The game tells a story involving three characters: JD Fenix (Marcus' son), Kait Diaz and Delmont "Del" Walker. The first of the characters listed joined the COG, where he served with Del, though both of them had to leave the organization due to a certain occurence and join the so-called Outsiders - it is kind of a guerilla branch of the COG. stationed beyond city walls (Kait has her origins in outside areas). Now, a group of young soldiers has to face a large threat.
Mechanics
Gears of War 4 for PC and XONE is a third-person shooter featuring a cover system. In terms of the mechanics, the game resembles the previous installments to a large degree. However, certain improvements were made, making the cover system more dynamic, which now allows the player mainly to use environmental objects to their advantage in combat (fragments of the ceiling can be dropped on the enemy hiding behind a cover for example). Now, the player can also attack the enemy with a knife thanks to the improved cover system. Most of the new elements concern the in-game weather. Storms raging on the planet fall into four categories and the two last kinds affect the course of battles to a large extent. Heavy winds can increase the range of fire or alter the bullets' flight direction. The heaviest gales force the player to fight for survival, because lightnings begin to fall from the sky for instance, and the player's task is to avoid them.
Game modes
Apart from the single-player campaign, Gears of War 4 for PC and XONE offers a multiplayer component. Although the previous installments featured such kinds of experience already, it is Gears of War 4 that places as much emphasis on the multiplayer modes as it does on the single-player campaign. The game offers the versus modes, a co-op mode for two-players sitting next to the same console and more.
Misc.
The roles of main characters were played by Liam McIntyre (popular from the Spartacus TV series) - JD Fenix, Laura Bailey (Olympia Vale in Halo 5: Guardians) - Kait, and Eugene Byrd (Marcus Boone in Battlefield: Hardline) - Del Walker.
Similar games:
PEGI Rating
System requirements
PC / Windows
Recommended: Intel Core i5-4690 3.0 GHz/AMD FX-8350 4.0 GHz, 8 GB RAM, graphic card 4 GB GeForce GTX 970/Radeon R9 290X or better, 80 GB HDD, Windows 10
Minimum: Intel Core i5-3470 3.0 GHz/AMD FX-6300 3.5 GHz, 8 GB RAM, graphic card 2 GB GeForce GTX 750/Radeon R7 260X or better, 80 GB HDD, Windows 10