PS Vita MMO Video Games
MMO games. This category includes classic MMORPGs (such as Ultima Online or EverQuest) which allow hundreds or even thousands of players to play in one universe simultaneously, and free-to-play titles, such as Hearthstone and League of Legends which are based on playing with other people and have global chat, social functions and charactersí progression system (e.g. in form of a summoner in League of Legens). MMO games can belong to many other genres, like RPG, FPS, strategy or sports games. more

Phantasy Star Online 2 (PSV)
RPG 28 February 2013
Continuation of the popular Japanese MMORPG set in the realities of science fiction. As members of the Galactic Investigative Group Arks, we travel around the cosmos and explore unknown planets. There are three races to choose from (human, newman and cast) and the same number of classes (Hunter, Ranger and Force). The fight is definitely more arcade than in the previous editions of the cycle.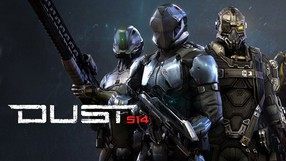 DUST 514 (PSV)
Action canceled
DUST 514 is a MMO production by CCP studio, the creators of the popular EVE Online, combining the dynamics of FPP shootouts and the need to use sophisticated tactics known from real time strategies.

Deathmatch Village (PSV)
Action 07 August 2013
Deathmatch Village is a strategic and arcade MOBA game, whose action takes place in the countryside. Its heroes are average farmers fighting with the tools available to them and with the help of farm animals.

Destiny of Spirits (PSV)
Strategy 25 March 2014
An original mix of strategy game, social game and RPG, which works in a free-to-play model. Players control a team of friendly creatures/spirits and fight dangerous monsters. We can exchange companions with people from all over the world.

Monster Hunter: Frontier G (PSV)
RPG 20 November 2014
Improved and extended version of the MMO based on the Monster Hunter series, focusing on co-operative fun. The title offers an arcade combat model, hundreds of dangerous monsters, 11 character classes and thousands of weapons, equipment and items useful in skirmishes.