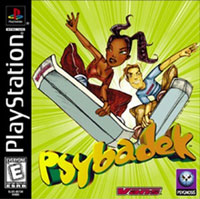 Psybadek
PS1
Created by the studio Psygnosis sports game dedicated to extreme riding on a board. The title focuses on the arcade character of the game and does not try to simulate discipline in a real way. The specific atmosphere is given to it by the style of animation for children.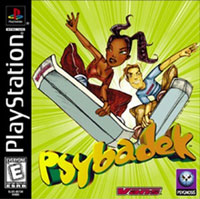 game release date for PS1:
17November1998
A cartoon-like, exaggerated stylistics sports game with a snowboard theme, which contains elements typical for platformers. The title focuses on an arcade, far from realism model of fun.
Story
The cunning Krakken is looking for a new home and decides to create the perfect landscape for himself in the snowboard park, where Xako, Mia and their friends practice every day. On top of that, he kidnaps local children and turns them into thoughtless minions. Brave athletes set off on a rescue mission.
Mechanics
Psybadek is an arcade sports game in which PS1 console owners play the role of young snowboard champions. The authors have prepared two types of levels, in which the heroes have to cope with various challenges. The first one is to go quickly from point A to point B. To complete this type of mission, players must collect the specified number of stars, placed on the route and falling out of hit enemies. The other boards resemble shooting ranges, where the task is to collect the appropriate number of stars for accurate hits in enemies circulating in a given area.
Technical issues
Psybadek is maintained in a colorful 3D setting, which resembles animated films. The plot prepared by the authors is presented using FMV inserts. The official partner of the game is the clothing brand Vans, whose clothes are worn by all characters.
Please let us know if you have any comments or suggestions regarding this description.
Similar games:
Age Rating
age requirements: 12+