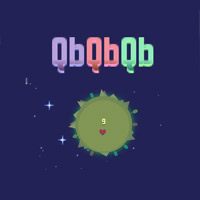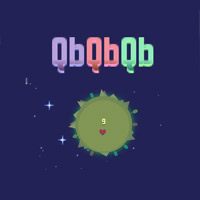 QbQbQb
An independent puzzle game developing ideas started in the cult Tetris. The game consists of combining elements coming in from above. The difference to Tetris is that we do not lay blocks, but special blocks approaching the planet.
QbQbQb, released on iOS, AND and PC, is an arcade logic game by Polish developer Przemyslaw "Rezoner" Sikorski. The game is one of many variations on the cult Tetris.
Mechanics
The game is about arranging colorful blocks coming to the planet from space. The combination of three elements of the same color makes them disappear from the board - this also gives us points. Unlike other games of this type, we don't move the "blocks", but the platform on which they fall. In this case, it is a planet.
To achieve satisfactory results, we need dexterity, as the individual blocks move quickly towards the target. It is possible to speed them up or slow them down, but this consumes special energy, which is depleted after a while. Points are credited for each group of blocks that have been annihilated. We also get points multiplier if we manage to destroy blocks a few times in a row.
Game modes
QbQbQb has only one mode, but the developer has made it possible to adjust the difficulty level, as well as the speed of falling blocks.
Technical aspects
QbQbQb is characterized by minimalistic graphics, devoid of advanced effects. Thanks to this, however, nothing distracts the player from the game allowing them to concentrate on the gameplay.
Game mode: single player
App size:
Age restrictions QbQbQb: Good for all ages.
QbQbQb System requirements
Minimum:
Pentium 4 1.3 GHz
1 GB RAM
100 MB HDD
Windows XP
Recommended:
Core 2 Duo 1.6 GHz
2 GB RAM
100 MB HDD
Windows XP