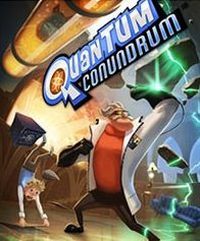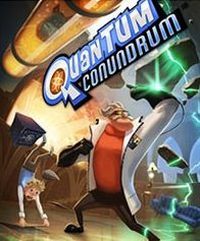 Quantum Conundrum
A puzzle game using dimensional manipulation mechanics. The main designer during the production was Kim Swift, the creator who played the same role during the creation of the cult Portal.
Puzzle | FPP | indie games
When you, as a young boy, are dropped off to visit your uncle, you notice something's wrong. First, he's not there to greet you. Second, there's the explosion that happened right as you arrived. And third, the house seems to be even weirder than you remember it. Now, your job is to find—and ultimately rescue—your uncle, by using his newest invention, the Interdimensional Shift Device (or IDS), to switch between dimensions and solve puzzles. That sofa too heavy to move? There's a dimension for that! Switch to Fluffy Dimension and that sofa is now light as a feather. Need to get up to a high ledge? There's a dimension for that! Just switch to Anti-Gravity Dimension and things begin to float upward. Need to make things move slower? There's a dimension for th—well, you get the idea. Switch dimensions in real time, work your way through the crazy complex mansion wings and rescue your uncle!
FEATURES:
Engaging Puzzle Gameplay:
Using the Inter–Dimensional Shift Device, players will shift to and from various dimensions to manipulate the world around them.
Experience New Dimensions:
Each dimension the player gains access to becomes a valuable asset to manipulate objects around the manor.
Immersive, Interactive Environment:
The look and feel of each dimension is completely distinct. When shifting to the Fluffy Dimension, everything in the room becomes a soft and cuddly version of its previous state.
Unique Art Style and Humor:
The Professor's manor and all the items within it have a unique style, but players should also be on the lookout for humorous touches scattered throughout.
Game mode: single player
User score: 8,4 / 10 based on 185 votes.
PEGI rating Quantum Conundrum
Quantum Conundrum System requirements
Recommended:
Core 2 Duo 3 GHz
2 GB RAM
graphic card 256 MB (GeForce 9500 GT or better)
1.75 GB HDD
Windows 7(SP1)
Uses:
PlayStation Network