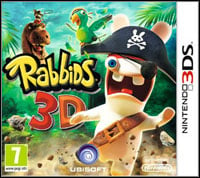 Rabbids 3D
3DS
A crazy platformer with time travel as its main theme. Overcoming 60 thematically diversified title boards, the Daughters have the opportunity to mix up sharply in the history of the world.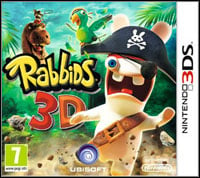 Rabbids 3D was created by Ubisoft's internal development studio in Casablanca. The title is based on the previous installment of the series - Rabbids: Travel in Time, which is available only for stationary Nintendo Wii. This one was designed for portable Nintendo 3DS.
The main heroes of the game are Rabbids (not to be confused with rabbits), who want to take over the world. They accidentally discover a way to travel in time thanks to a vehicle resembling a washing machine. Their plan is simple - to steer the past events in order to properly change the course of history.
In contrast to the Wii original, Rabbids 3D is a typical platform game. As one of the Rabbids, the player has to beat 60 levels divided into different historical periods. At the end of each stage a "washing machine" awaits you, allowing you to move in time. Getting there is not easy though due to piling up obstacles and enemies.
The in-game locations are characterized by a great thematic variety. The Rabbids have an opportunity to see dinosaurs, the ancient Egypt, and medieval fortresses. Along the way they can collect a considerable number of coins and ducks to unlock extra levels and characters. There are also 40 different types of historical outfits to obtain – e.g. a costume of one of the Three Musketeers or Napoleon's uniform.
Rabbids 3D gameplay is characterized by high tempo. The game features a lot of humor, so the Rabbids inadvertently become perpetrators of historic events: they teach humans the art of kindling fire, break off the Sphinx's nose, and assist King Arthur's in getting the legendary Excalibur.
Apart from the main campaign Rabbids 3D developers provided several extra game modes, including challenges and time game. The title uses Nintendo 3DS full functionality, including the 3D display of and the additional touch screen.
Similar games:
PEGI Rating