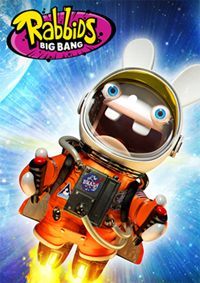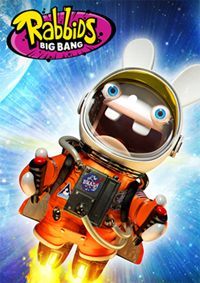 Rabbids Big Bang
Mobile spin-off series Raving Rabbids, realized in the form of a crazy arcade game. The aim of the game is to shoot one of the 'daughters' into space and then control it using a special rocket backpack and gravity force.
Rabbids Big Bang
Release Date
Rabbids Big Bang is an arcade game prepared for mobile devices, which is a spin-off of a series about the adventures of the crazy Rabbids, which appeared for the first time in 2006 as protagonists of another installment of Rayman's adventures. The title was developed in cooperation with two internal studios of Ubisoft (based in Paris and Milan) and found its way to the most popular mobile platforms, as well as tablets and PC with Windows 8 and 10.
Mechanics
Our goal in Rabbids Big Bang is to shoot one of the title Rabbids into space, and then control it in such a way that it reaches a predetermined goal (e.g. develops a certain speed or collects a certain amount of coins). The home-grown astronaut can be controlled thanks to a special jet backpack. However, the fact that the fuel in the jetpack is depleted quite quickly is a specific difficulty, so to achieve success we must also skillfully use the gravity fields of the planets, and above all avoid objects drifting in space, which may slow us down or stop the flight prematurely.
The game offers a total of 150 different levels taking place on ten worlds, and each of them poses a completely different challenge to the player. As the game progresses, we collect special coins, which we use to buy various bonuses. There is also a possibility to improve the propulsion system (the initial backpack can be replaced with a can of a carbonated drink or a swimming wheel with a duck's head) and a stick used to shoot the hero (here you can choose between a baseball bat, a golf club or a toilet pusher). To a certain extent, we can also modify the appearance of our "austronaut".
Technical aspects
Rabbids Big Bang features colorful, cartoonish visuals, characteristic for all Rabbids titles, as well as Rayman games. The characteristic feature of the game is also a large dose of slightly absurd humor and numerous situational gags. While crossing the cosmos, we meet, among others, space ducks or cheese planets, and flying too close to the sun may end up in burnt fur.
Game mode: single player
Age restrictions Rabbids Big Bang: Good for all ages.
Rabbids Big Bang System requirements
Minimum:
50 MB HDD
Windows 8/10