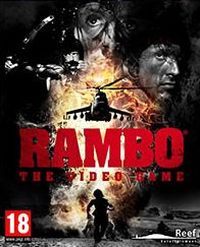 An FPP rail shooter inspired by the Rambo films. A Polish studio, Teyon Games, is responsible for creating the title. Rambo: The Video Game for PC, PS3 and X360 puts am emphasis on spectacular action and arcade gameplay model. In the game , the player gets to visit the locations known from the cinema where the brave commando has to yet again fight an unequal battle with an army of enemies.
Rambo: The Video Game for PC, PS3 and X360 is an arcade action game based on the popular series of films about John Rambo. The title was created by a Cracow-based studio, Teyon Games, responsible for the series of similar games called Heavy Fire.
The player takes part in a series of missions simulating the events known from the movie Rambo: First Blood, Rambo II, and Rambo III. First, the game takes place in the American town of Hope and the surrounding woods, then in the Vietnam jungle, where Rambo has to face more numerous enemies apart with brute force and cunning, and finally moves to the deserts of Afghanistan.
The main character is none other than John Rambo. The player watches the game world from his perspective. As befits the relentless American commando which we know well from the movies, Rambo fights the enemy both openly and secretly.
Shooting mechanics are strongly simplified compared to most modern FPS games. Rambo: The Video Game is a representative of a specific subgenre called rail shooters meaning that the player does not control the movement of the protagonist. In addition to shooting, there are quick time event sequences in the game which require rapid pressing of the corresponding buttons on the controller. In such moments, the game most often switches to the third-person view.
The protagonist has a diverse array of weapons at his disposal, including the immortal AK-47, light machine gun, a knife, or the cult bow. In several scenes, Rambo grabs the gun mounted on a helicopter or some other vehicle. The main goal of the game is to perform the most spectacular killings and acts of destruction (some elements of the environment are destroyable) for which the player is rewarded with points.
Visuals of Rambo: The Video Game for PC, PS3 and X360 look rather average. In terms of appearance, the main character is modeled on Sylvester Stallone – the actor known for his role as Rambo. The lines spoken by the characters come directly from the film trilogy.
Similar games:
PEGI Rating
System requirements
PC / Windows
Recommended: Core 2 Duo 2.8, 2 GB RAM, 512 MB pamięci (GeForce 8800 or better), 8 GB HDD, Windows XP/Vista/7/8