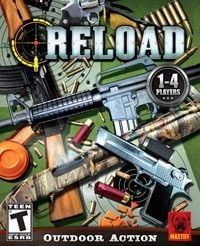 Reload
Reload is an arcade shooter game produced by Mastiff. Players have the opportunity to test their target shooting skills using 25 types of firearms (including AK-47 rifle, dessert Eagle pistol and M32 grenade launcher).
Action | FPP | rail shooter | shooters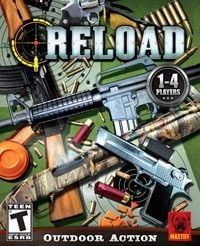 Game mode: single / multiplayer
Multiplayer mode: common screen, players: 1-4
Reload is a proposal of Mastiff company addressed to players who like first person shootout (FPP), but do not want to see the splashing blood of virtual opponents. The game gives them the opportunity to test themselves in shooting at various inanimate targets.
In the course of the game, players can play as guardians of the law training at the police shooting range, sniper at the military training ground or a participant of the competition in shooting at darts (clay discs). Each time, however, it is a matter of bloodless testing of the correct eye and reflex.
The creators prepared 25 types of weapons in which you can pull the trigger. The available arsenal included e.g. AK-47 (famous Kalashnikov), Dessert Eagle pistol, MP5 rifle or sniper rifle MAS. All types of weaponry have been faithfully reproduced both in terms of appearance and technical parameters (e.g. reloading time, rejection force, accuracy).
The game offers the opportunity to take part in various types of shooting rehearsals. In all cases, however, it is a classic "target sight". The player has no influence on the character's movement, and his task is limited to directing the weapon viewfinder at the indicated targets and pulling the trigger.
In addition to the possibility of a solo game, the developers have provided a multiplayer game option, in which a maximum of four players can participate using a common screen. The condition is to have a sufficiently large number of controllers.
The level of Reload's visual setting does not differ from competitive productions. Shooting ranges and their surroundings are diverse. Among the additional attractions of the game you can find the option of repetition of the kill-cam, i.e. a camera shot depicting a bullet on the fly to the target.
Please let us know if you have any comments or suggestions regarding this description.
Age Rating
age requirements: 16+
System requirements