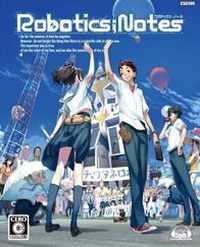 Robotics;Notes is a visual novel adventure game. 5pb. company and Nitroplus studio are responsible for the creation of the title. Both developers are well known to fans of visual novel and pop culture of the Land of the Cherry Blossom, especially the part of it that is connected with the so-called otaku environment (obsessive fans of manga, anime, militaria or sc-fi films). Producers have many console titles in their output, of which only a small percentage went to Western players. Robotics;Notes is the third, after Chaos;Head and Steins;Gate published in 2008 in 2010, edition of the series of sc-fi adventures, whose characteristic hallmark is the semicolon in the title. All the games in the cycle are loosely linked to each other and take place in modern Japan. Their plot touches on themes related to technological progress and scientific experiments, as well as using ideas derived from urban legends and conspiracy theories.
Story
Action Robotics;Notes takes place at the southern tip of Japan in 2019. The main character of the title is Kaito Yashio, a high school student belonging to a small robotics club. Kaito is also a big fan of online fights. When one day he learns that one of his schoolmates has programmed a combat system and engine in his favourite game, he decides to use her knowledge and experience to build a dozen or so meters of mecha.
Mechanics
Robotics;Notes is a typical Japanese visual novel, which means that for most of the game we read and listen to character dialogues, usually with little influence on them. At the most important moments, however, we make decisions that result in the achievement of one of the many endings of history. Unlike the previous versions of the series, the developers introduced more interactive elements into the game. The main character does not part with his tablet, which players can use in several ways. When you are not busy chatting with other characters, you can run some useful applications. One of them uses the possibilities of augmented reality and after bringing it closer to some object, e.g. buildings in the background, we can get a short description of them. What is interesting, thanks to the program it is also possible to change the outfits of the characters watched by the camera of the tablet. In addition, we can also use a Twitter-like service and contact other characters via Twitter. It is worth mentioning that the title also contains a comprehensive dictionary containing descriptions of all terms and heroes appearing in the game.
Technical issues
A big novelty in Robotics;Notes is that standard two-dimensional and static portraits of characters have been replaced by three-dimensional models. This makes interactions with other heroes more interesting. Their animations allow you to express emotions and moods. In addition, thanks to the synchronization of lip movement with recorded voices, you can have the impression that you are watching anime series. The backgrounds and scenography, however, have been made using typical genre-specific methods and remain two-dimensional graphics.
Please let us know if you have any comments or suggestions regarding this description
Age Rating
age requirements: everyone
System requirements