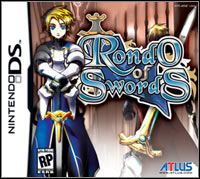 Rondo of Swords
NDS
A combination of role-playing and turn-based strategy. We play the role of a brave knight who wants to find a holy sword and save his homeland.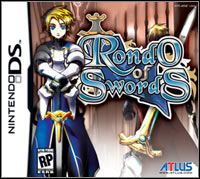 game language: English
game release date for NDS:
15April2008
The Kingdom of Bretwalde: situated in the center of the continent of Bravord and surrounded on all sides by strong nations, it was established by a holy knight whose blade drove back the Darkness that threatened to engulf the land.
On this day in Bretwalde, the people are mourning their recently fallen king with a solemn funeral.
But during the ceremony, the neighboring Grand Meir empire attacked without warning. One by one,the knights of Bretwalde fell to Grand Meir's forces. The few surviving knights, led by Serdic, escaped south to the Shalem Emirate Federation...
The tribes of Shalem were divided over what to do regarding Grand Meir's invasion of Bretwalde, when an unexpected visitor arrived: Princess Marie of Bretwalde, believed to be sequestered in a Veronan cloister.
Her innocent visit ignited the situation: one of Shalem's tribes attempted to capture the Princess in order to gain favor with Grand Meir, prompting Serdic to mobilize his forces. The Bretwalde Army was once again on the march...
But Serdic carries a secret...
A pair of vows made during his escape from Bretwalde...
And the time will come when he will have to choose.
During his journey to reclaim the Kingdom of Bretwalde, Serdic encounters all manner of people, experiencing faith, friendship, hostility, hatred, sadness, and farewells.
His actions will shape the fate of the entire continent!

Expectations: 6.0 / 10 calculated out of 2 players' votes.
Age Rating
age requirements: 12+