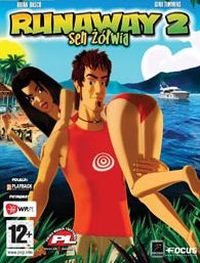 Runaway 2: The Dream of the Turtle
The second part of an excellent adventure game prepared by Spanish Pendulo Studios. Just like in the previous one, here we meet two main characters: the extremely sexy Gina and the student Brian.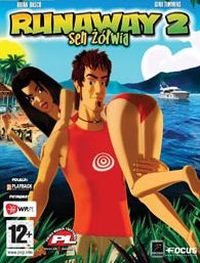 The story goes on...
Runaway definitively marked a major comeback for adventure games by being a huge commercial success. And now Brian and Gina are back in another exciting adventure which will wow the public in the same way as the first opus.
Pendulo, the Madrid game development studio, had been working on this new adventure for three years. They mostly focused over the game visuals, which can be seen as a tribute to the great tradition of adventure games. The visuals combine highly detailed 2D backgrounds with 3D objects and character models, as seen in today's animated movies. Humour is still a part of the journey and the music is trendy - thus players are bound to be reminded of the fantastic soundtrack featured in the first installment of this game series.
Moreover, the characters, the story, and the numerous riddles work very well with the visuals and they will no doubt ensure that Brian, Gina, and their parents gain a place in every adventurer's heart.
Features:
• A new fabulous adventure of Brian Basco and Gina Timmins.
• Discover 6 great chapters of an unforgettable adventure containing many surprises!
• Overall quality on a par with the big names in cinema and animated movies. The combination of 2D and 3D delivers a unique graphical experience.
• Up-to-date and hilarious dialogues following the convention introduced in Runaway – A road adventure.
• An original soundtrack hand-picked by the creators of Runaway: The Dream of the Turtle.
Similar games:
PEGI Rating
System requirements
Recommended:
Pentium 4 1.6 GHz
256 MB RAM
graphic card 32 MB
2.5 GB HDD
Windows 98/Me/2000/XP/Vista