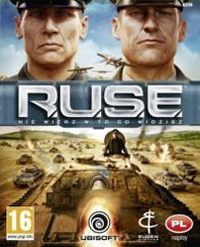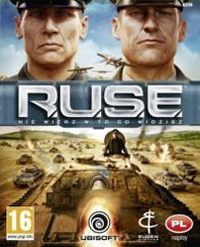 R.U.S.E.
RUSE
Real-time strategy taking place in the realities of the Second World War. The product focuses primarily on large-scale battles and the use of various insidious techniques.
Strategy | RTS | war | PlayStation Move
R.U.S.E. is a strategy game created by Act of War: Direct Action developers, Eugen Systems. The game is set during World War II. You play as Joe Sheridan – an Allied commander fighting against Germans.
In single player campaign most of the time you command American forces, but in time you can also take control over other nations. On the other hand, multilayer sets no boundaries on the choice of faction – you can control any of the six available armies (the Americans, the French, the British, the Italians, and the Russians). Each army has its own unique units and capabilities. You can sent to fight both infantry as well as ground vehicles and aircrafts. However, your best weapon is your mind and strategic thinking. R.U.S.E. is not only about technological or numerical superiority, but also proper use of tactics and maneuvers.
The characteristic feature of the game are large and very detailed maps. Battles fought in the campaign mode are characterized by massive scale. It is a common sight that apart from your army, there are lots of AI-controlled allied units on the map. Despite the fact that they are often little more than a background in the chaos of war, this gives an impression of being in an actual war. Single player campaign includes many famous historical battles (e.g. Battle of Monte Casino). The authors used many interesting and original solutions, improving on RTS genre.
In order to win advantage over an enemy you should use recon units – both ground and aerial. Moreover, you can make use of tricks and bluffs. These include: spies, camouflage, radio silence, intercept, or cutting off enemy weapon and food supplies. E.g. using radio silence makes your units invisible for a time, while interception can discover enemy moves. It is often your craftiness that can change the outcome of a battle. You can also produce new units and develop military technologies.
The game is based on IRISZOOM Engine, which is able to generate enormous battlefields. It also allows for variable zoom, which makes it possible to view the area from very close distance or from bird's-eye. Zooming in and out is really fluent. An interesting feature is also the expansive online multiplayer for up to 8 people. The developers allowed for both cooperative and competitive gameplay. Another noteworthy thing is the simple, intuitive user's interface, with which controlling several hundred units is not a problem.
Game mode: single / multiplayer Multiplayer mode: Internet Player counter: 1-8
Media type: 1 DVD
User score: 8,5 / 10 based on 916 votes.
Pre-release expectations: 6.4 / 10 based on 446 votes.
PEGI rating R.U.S.E.
R.U.S.E. System requirements
Recommended:
Pentium D 3.5 GHz
2 GB RAM
graphic card 256 MB (GeForce 7800 or better)
Windows XP/Vista/7