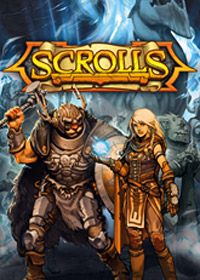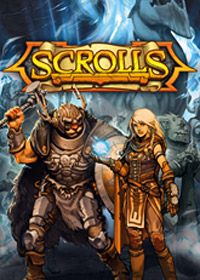 Scrolls
A fantasy turn-based strategy game, which is a peculiar combination of an LCG and a board game. Scrolls has been developed by the Swedish Mojang studio, also known for creating the iconic Minecraft.
Strategy | turn-based | play for free | 2D | card games | indie games
Scrolls for PC, iOS and AND is a strategy game, in which players are equipped with decks of cards they have built themselves and duel one another on a hexagonal board. The game has been developed by Mojang – a studio known for creating the popular Minecraft.
Mechanics
The game is a turn-based strategy and combines elements of LCG and board games. Players compete against each other on hexagonal boards using card decks they have built themselves choosing from the titular scrolls. At the beginning of a match, armies of all the participating players are deployed on opposite ends of the board surrounded by five stone statues. A player, who destroys at least three out of the five statues first, wins. Among the available cards, one can find scrolls allowing him to e.g. summon diverse characters onto the board, erect defensive structures, construct war machines, cast spells, and activate numerous bonuses. All the characters are described with stats including i.a. strength and health points. Moreover, whenever playing a card, a player has to spend a predefined amount of resources. Summoned characters are deployed on the board, on which they can move and attack other units.
One can enter a duel using the deck of one of the four feuding factions – Growth, Order, Energy, and Decay, each one featuring a different gameplay strategy. Growth allows one to flood the enemy with waves of units, Order combines numerous abilities, Energy uses strong offensive spells. As the number of available scrolls increases, players can create their decks using cards from different factions.
Game modes
Upon starting a match the decks are shuffled, which increases the randomness. Scrolls for PC, iOS and AND offers several game modes, including a tutorial, duels with both AI-controlled and real opponents, ranked matches, and 25 so-called challenges, in which a player is confronted with various situations on the board he has to solve. In the future, developers plan to implement tournaments.
The PC, iOS and AND release of Scrolls puts a strong emphasis on the multiplayer mode. The developers implement new Scrolls on a regular basis forcing players to modify their decks and employed strategies. Moreover, one can upgrade his tactics using the elaborate statistics system.
Technical aspects
In Scrolls for PC, iOS and AND the developers have implemented the microtransactions system; however, it does not affect the balance of the game. All the available scrolls and avatars can be obtained either for the in-game currency or with real money.
Game mode: single / multiplayer
App size:
Age restrictions Scrolls: 12+
Scrolls System requirements
Minimum:
Intel Pentium D 2.8 GHz/AMD Athlon 64 2.6 GHz
2 GB RAM
graphic card 256 MB GeForce 8400 GS/Radeon HD 2400 or better
700 MB HDD
Windows Vista
Recommended:
Intel Core i3 3.3 GHz/AMD Athlon II 2.6 GHz
4 GB RAM
graphic card 1 GB GeForce GTX 460/Radeon HD 5870 or better
1.5 GB HDD
Windows 7/8
Additional information:
Internet connection is required
Additional information:
Internet connection is required