The Longest Journey Video Game Series
Video Games Encyclopedia by Gamepressure.com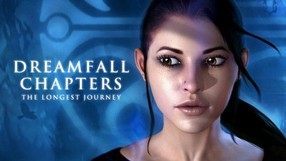 Dreamfall Chapters
Adventure 21 October 2014
The third installment in the series of adventure games started in 1999 with Dreamfall: The Longest Journey. Dreamfall: Chapters was developed by Red Thread Games led by Ragnar Tornquist. The story of the game presents further adventures of the young protagonist, Zoe Castillo, who thanks to her highly unusual powers is able to travel between three worlds: the magical Arcadia, the technologically advanced Stark and the mysterious Storytime. Since it is a traditional adventure game, the gameplay focuses on such features like item gathering, conversations with non-playable characters and riddle solving. Despite the rather small budget of the game, developers of Dreamfall: Chapters have created attractive visuals generated by using the popular Unity Engine.

Dreamfall: The Longest Journey
Adventure 17 April 2006
The second part of a great adventure game, The Longest Journey, which was realized and released in 2000 by Funcom. Its action was set in the same realities as we had the opportunity to stay in the original The Longest Journey, i.e. compilation of fantasy and science fiction.

The Longest Journey
Adventure 20 April 2000
The Longest Journey is a classic adventure game produced by FunCom's development team. The main character, April Ryan, must save two twin worlds: Arcadia and Stark. The game uses a point & click interface. Players have the opportunity to talk to 50 NPCs and visit more than 100 locations.