Space Hulk (Full Control) Video Game Series
Video Games Encyclopedia by Gamepressure.com

Space Hulk: Ascension
Strategy 12 November 2014
A refreshed and enhanced version of Space Hulk, a turn-based strategy game created by Full Control, which builds upon a popular board game experience. The game offers 3 campaigns comprising over 100 missions, during which the players get to lead Space Marine Terminators to battle against Tyranid Genestealers. When compared to the original installment, Space Hulk: Ascension features a much more elaborate array of options, allowing the players to command their squad. Moreover, each Terminator at the player's command can be customized. They also gain experience points, which in turn can be used to develop their skills and attributes. To top it all off, Space Hulk: Ascension delivers us new Genestealer variations, along with previously unavailable weaponry. Warhammer 40K fans are bound to enjoy the visuals implemented herein, as the atmosphere they create brings the players onto the stories from the Warhammer 40K universe.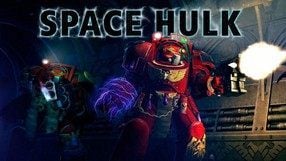 Space Hulk
Strategy 15 August 2013
A turn-based strategy game, a computer version of the popular Games Workshop board game, set in the Warhammer universe of 40,000. In this game we lead a unit of space marines from the Legion of Blood Angels, who have to explore the wreck of the giant ship Sin of Destruction, where the presence of a biological race of genocrades has been found.