Hand of Fate Video Game Series
Video Games Encyclopedia by Gamepressure.com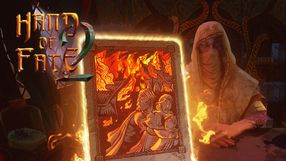 Hand of Fate 2
RPG 07 November 2017
A new installment of an unusual RPG from Defiant Development, enriched with board and card game elements. Similarly to its predecessor, the player is tasked with taking on the challenges created using cards rolled by a magical enemy, called The Dealer. Thanks to the efforts of the previous protagonist, he was defeated, but the hero was0 corrupted by his own power, and became a bloodthirsty tyrant. The Dealer returns to train a new hero, capable of facing his predecessor. The overall idea for the gameplay had remains unchanged, but a number of new elements have been introduced. Hand of Fate 2 introduces an additional plane to the game map, instigating more situations with potential encounters – that part of the game received additional requirements such as time-oriented objectives. Aside from that, our hero doesn't have to be alone anymore – we received an ability to recruit comrades, and create a party.

Hand of Fate
RPG 17 February 2015
A unique fantasy mix of a card game, a board game and an RPG title. We traverse dungeons, fighting monsters and collecting treasures, but not like in typical role-playing games. Everything happens on a virtual table, with us playing a card game in front of The Dealer. We travel through locations by moving a pawn representing our hero on the table and revealing cards that depict enemies, NPCs, locations, and other elements that make our adventure. When we face an enemy, we are taken to a three-dimensional environment and control the hero like in any other TPP action-RPG title. As befits a card game, Hand of Fate isn't lacking the option of building one's deck, consisting of parts of equipment, special attacks, and other bonuses gained during game.