Rune Video Game Series
Video Games Encyclopedia by Gamepressure.com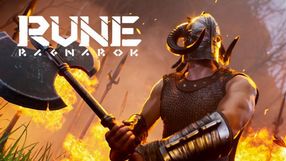 Rune II
RPG 12 November 2019
Rune: Ragnarok is an action RPG developed by Human Head, which is a sequel to the cult classic game called Rune, released in 2000. Rune: Ragnarok takes you to a fantasy realm based on the Nordic mythology. The game's story starts seven years after the eponymous Ragnarok has begun. Despite the pervasive death and destruction, there is no end to the conflict. That's why the remaining humans (including the protagonist) decide to take the initiative and slay all gods in order to put a stop to the apocalypse. While playing you explore a large open world, assault enemy settlements, sail the seas, complete missions, craft items, and develop your hero's skills. The game's heart is the expansive combat system, characterized by its focus on action and explicit brutality. An important role is also played by deities. The player can choose to worship one of them, which grants them access to a variety of special powers.

Rune (2000)
Action 31 October 2000
An action-adventure game set in a world based on Norse mythology, in the times when Vikings were conquering the cold, grim world, and the pagan religions were widespread in the north. You play as a young warrior named Ragnar, who has to defeat mythical monsters and discover the source of evil that has been destroying his people. The game, which utilizes the Unreal Tournament graphic engine, features a mysterious world of the Vikings consisting of 25 levels. To succeed in combat, you need to react to the monsters' behavior — you have to hit and parry in the right moment, otherwise you may risk getting struck dead. You can also gather special health points, weapons, and other items. There is also an online multiplayer mode, which allows you to fight other players on a special arena.