Armored Warfare Video Game Series
Video Games Encyclopedia by Gamepressure.com

Armored Warfare: Assault
Action 22 February 2018
Armored Warfare is a multiplayer action game with tanks, developed for mobile devices by Pushkin Game Studios. It offers high-quality visuals created with Unreal Engine 4.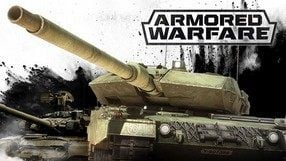 Armored Warfare
Simulation 08 October 2015
An action MMO game featuring modern-day tank battles. The game was produced by the experienced studio Obsidian Entertainment, known for such titles as Neverwinter Nights 2, Fallout: New Vegas, or Dungeon Siege III. The game features a wide spectrum of modern tanks and armored vehicles used by numerous military forces of the world. Although the game features online gameplay only, there are many different play modes, allowing anyone to find something for themselves. Armored Warfare lets players not only compete in a PvP mode, but also join forces in cooperative campaigns. Among the available missions there some designed with lone wolves in mind, as well as some that require good cooperation. The games highly realistic visuals are powered by the latest generation of CryEngine.