Valiant Hearts Video Game Series
Video Games Encyclopedia by Gamepressure.com

Valiant Hearts: Coming Home
Adventure 31 January 2023
Valiant Hearts: Coming Home is an action adventure game set during World War I. It tells the story of four different characters, testing our dexterity and cunning while taking on the form of a side-scrolling 2D platformer.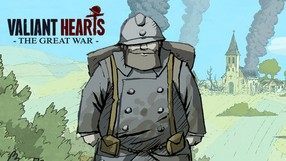 Valiant Hearts: The Great War
Adventure 25 June 2014
Valiant Hears: The Great War is an original action-adventure game that takes place during the World War I. It was developed by Ubisoft Montpellier, creators of best-selling platform games Rayman Origins and Rayman Legends. The game's plot is based on authentic letters from the WW1 period and tells the story of five heroes who were were brought together by the war and... a good-willed dog that can influence the fate of people. Among our heroes we will find a French captive, an American enlistee, a Belgian paramedic, an English pilot, and a German infantryman. Gameplay differs depending on which character we are currently controlling. We will have to solve riddles and puzzles, explore, and face some arcade elements. Even though the game's atmosphere and setting are a bit grim, Valiant Hears: The Great War tends to be a bit humorous. We will also find many stereotypes about the nationalities of our heroes in the game. Game's visuals are comic book-like, "hand drawn" to some degree.