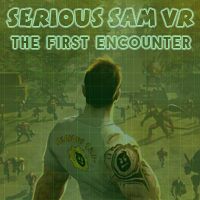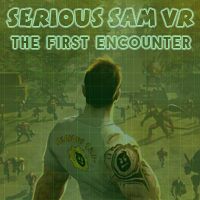 Serious Sam VR: The First Encounter
PC
A new edition of Serious Sam: The First Encounter developed by Croteam for VR device users. The players assume the role of the titular character, who is transported to ancient Egypt using a special time machine.
Action | FPP | FPS | Oculus Rift/Quest | shooters | SteamVR | virtual reality
Serious Sam VR: The First Encounter

Release Date PC

early access

20December2016

30March2017
developer: Croteam publisher: Devolver Digital Official website

game language: English
Serious Sam VR: The First Encounter is a VR remake of a cult-classic FPP shooter developed by Croteam. The game is a remake of Serious Sam: The First Encounter intended for VR devices, which is one of the main requirements of the new edition. The game was released on PC.
Plot
The story of Serious Sam VR: The First Encounter begins in distant future, where humanity has reached a level of technological advancement necessary for intergalactic travels. One of such journeys led humans to an ancient evil – Tah-Uma, an embodiment of the last of the immortals that travel across the galaxy, destroying every civilization they encounter. He has now targeted Earth, so humans have to counterreact. The player assumes the role of the titular character, sent to ancient Egypt thanks to a special time machine. His mission is to change the course of history, and elimination of the opponent, who at that time was much weaker.
Mechanics
Serious Sam VR: The First Encounter consists of fifteen extensive levels. The player is tasked with exploration which often forces him to stave off hordes of enemies. We can choose from ten weapons, including classic Colt, handy shotgun, as well as a chainsaw, Thompson machine gun, or even a portable cannon. A wide range of enemies will be standing between us and our target, including hordes of Beheaded Kamikadze, who charge at our hero holding two explosive charges, or Sirian Werebulls or Kleer Skeletons. Additionally, the levels are full of hidden secrets – this installment has over 80 of them.
The biggest change from the cult-classic predecessor is the support for virtual reality paraphernalia. Before the game commences, the player can choose whether he wants to move fluently, or use a special system of teleportation, allowing players to flank opponents, or attack them from behind. Additionally, you can freely look around the environment through head movements, while dedicated motion controllers are used for aiming.
Game Modes
Serious Sam VR: The First Encounter offers a set of single and multiplayer game modes. The core of the game is the story campaign, available in five difficulty levels, mainly influencing the enemies' durability. Aside from that, the game contains mutliple multiplayer modes for up to sixteen players – one cooperation mode, and eleven rivalry-oriented ones.
Technical Aspects
The game is powered by Serious Engine 2017, which offers high quality 3D graphics. We are subjected to refined enemy models and detail-rich environments, while special effects that accompany the dynamic clashes with mythological monsters are very spectacular.
Last updated on 12 January 2017
Game mode: single / multiplayer Multiplayer mode: Internet Player counter: 1-16
User score: 9,1 / 10 based on 39 votes.
Age restrictions Serious Sam VR: The First Encounter: Good for all ages.