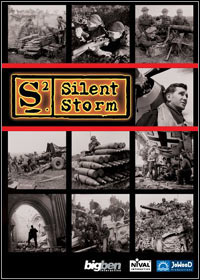 Silent Storm
PC
Silent Storm is a tactical turn-based strategy produced by Nival Interactive developer studio in the realities of World War II. The player stands at the head of a unit of soldiers sent far behind the enemy.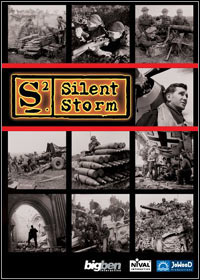 game language: English
game release date for PC:
31October2003
Silent Storm is a true 3D tactical turn-based Role-Playing-Game set against the backdrop of WWII. As the conflict rages on the frontlines, you'll be leading a small multinational squad behind enemy lines to gather information and wreak havoc on your enemies while trying to thwart a mysterious new rising power whose plans are even more horrific than anything the world has yet witnessed.
Silent Storm is fully rendered in breathtaking 3D – and includes fully destructible environments, realistic weaponry and unlimited tactical possibilities. Turn-based gaming has never looked this good!
Choose your squad from over 40 operatives of 30 different nationalities, each with a unique background and mix of specialties and skills. You'll be able to arm each of them with a mix of over 75 authentic WWII weapons ranging from commando daggers to shoulder-mounted rocket launchers.
Silent Storm sets a new standard for the turn-based genre with rag-doll kinetic physics and bullet trajectory tracing lending a level of realism to characters and warfare that surpasses any title in the genre.
Two non-linear campaigns let you command Allied or Axis forces and give you full control over the style and difficulty of play. The variety of squad members and weaponry let you emphasize stealth or maximum firepower, and nearly unlimited random encounters let you prepare your squad for their secret missions where skill and tactical cunning will make the difference between life and death.
Features:
- Flexible mission structure with 2 independent campaigns for Allies and Axis
- 24 non-linear day and night missions; prepare for each mission with randomly generated encounters of any style and difficulty
- Multiple paths to complete the mission, use brute force or stealth tactics – 3 incorporated difficulty levels
- Destructible environment opens up tactical options – blow out a wall to smash the enemies behind
- Equip your squad with over 75 authentic WWII weapons including experimental and rare models; discover hidden enemy caches to get even more powerful gear
- Over 40 male and female operatives of various nationalities available, each with unique personality, background, and dialog lines and one of 6 different professions: scout, sniper, soldier, grenadier, medic, and engineer
- Rich character development system including 9 skills as presets for each character and more then 50 skills that can be developed during the course of the game
- Unprecedented realism featuring true 3D and fully destructible environment, real bullet tracing and collision detection and realistic trajectories, speed and piercing performance for different types of bullets, grenades and missiles

Game score 8.465 / 10 calculated out of 468 players' votes.
PEGI Rating
System requirements
Recommended:
Pentium 4 2.2 GHz
512MB RAM
128MB graphic card
2.5 GB HDD