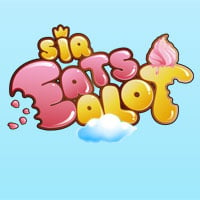 Sir Eatsalot is a hybrid of adventure game and platformer, which was developed by independent German studio Behind The Stone. The production appeared on the PSV platform and makes use of the unique capabilities of this console.
Story
Sir Eatsalot takes players to the fantastic Kingdom of Gluttington, whose existence is threatened by the sinister witch Hysteric. The antagonist of the main character poisoned the whole land with bitter lemonade, so that further production of food adored by our guest (headed by doughnut pizza) was questioned. A comforting hero, whose attribute is an exceptionally large belly, there is nothing but to grab a small sword in his hand and set off on a journey aimed at saving the kingdom.
Mechanics
In Sir Eatsalot released on the PSV platform we observe the action from the side. Thirteen extensive and varied stages have been prepared for the game, and the game consists of exploring, fighting against enemies encountered on the way using the sword mentioned above and solving puzzles; solving most puzzles requires the use of a touch screen and motion sensors to solve them. It is also worth remembering that from time to time the protagonist must fill his stomach with delicacies found along the way.
Technical issues
Sir Eatsalot enjoys the eye thanks to the two-dimensional graphics stylized as a cartoon; the richly animated characters and the detailed surroundings also deserve attention. The whole is complemented by a soundtrack which intensifies the atmosphere of a great adventure, though treated with a pinch of salt.
Please let us know if you have any comments or suggestions regarding this description.
Similar games:
Age Rating
age requirements: everyone