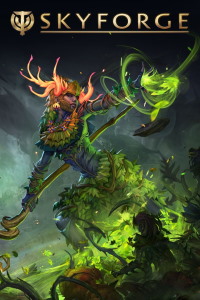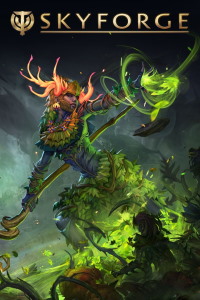 Skyforge
A MMORPG game distributed in free-to-play model and developed by Allods Team (Allods Online) in cooperation with the famous Obsidian Entertainment. The game is set in a world combining elements of fantasy with futuristic sci-fi technology.
RPG | TPP | fantasy | science fiction | play for free | MMORPG | MMO
Skyforge for PC, PS4 and XONE is a free-to-play MMORPG with micropayments. Studio Allods Team, creators of Allods Online, developed the game in collaboration with Obsidian Entertainment.
The story is set in a world combining elements of fantasy and science fiction. Although this virtual universe is inhabited by many different races, we can only assume the role of a human. However, our hero has god-like qualities, and making full use of them is the central point of the game. The ultimate goal of the players is to achieve divinity, because only thus will they be able to fight off an invasion threatening our world.
Players can choose between more than a dozen classes, many of which are very unusual and different from the professions featured in competing productions. Among them, we can find Cryomancer, specializing in freezing their opponents, Lightbender who operates with light magic, or Kinetic who can change reality with their mind. Unlike other games of the genre, Skyforge provides us with an option to change our specialization at any given time, even during combat, and without consequences.
Once we've created our protagonist, we can venture into the world to seek quests to perform, treasures to collect and enemies to kill. Combat is a mix of solutions known from MOBAs and action games, though in addition to player's dexterity the hero's statistics and skills also play a significant role. The character development system thoroughly adopts the approach. Our achievements are rewarded with special gems that can spent on improving hero's statistics and abilities in a tree known as Ascension Atlas.
In addition to developing skills and statistics, we also build a cult of followers. Responding to our subjects' pleas and rescuing them from oppression provides us not only with traditional rewards, but also with special points counted in a separate ranking. The level of devotion of you followers shows not only in numbers, but also in the game world – impressive statues are erected for the most powerful players.
Skyforge on PC, PS4 and XONE offers fully three-dimensional graphics with a high level of details. A new game engine was developed specifically for this project, as the technologies available on the market did not meet the requirements of Allods Team.
Last updated on 05 November 2021
Game mode: massive online multiplayer Multiplayer mode: Internet
User score: 5.9 / 10 based on 52 votes.
PEGI rating Skyforge
Skyforge System requirements
Minimum:
Intel Core i5 2.6 GHz/AMD Athlon II X4 2.6 GHz
3 GB RAM
graphic card 512 MB GeForce 9800 GT/Radeon HD 4870 or better
10 GB HDD
Windows XP(SP3)/Vista/7/8