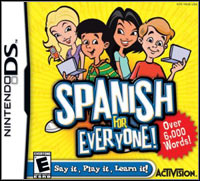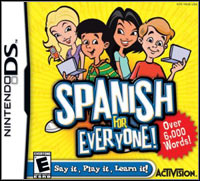 Spanish for Everyone
NDS
Educational game, thanks to which we can learn the basics of Spanish by participating in relatively simple verbal games.
Puzzle | Nintendo exclusive titles
Spanish for Everyone

Release Date NDS

23October2007
developer: GameMill Entertainment publisher: Activision Blizzard Official website

game language: English
Spanish for Everyone is an educational product, in many ways reminiscent of another title issued on the Nintendo DS console, namely English Training: Have Fun Improving Your Skills. The main advantage of this game results from the possibility of getting to know the Spanish language. This product was developed mainly for those who want to learn the language from scratch, or who have relatively little knowledge of the language. The fact that we do not participate in professionally prepared lessons is one of the reasons for this. Instead, simple and sometimes entertainingly designed word games have been taken care of, with the same emphasis on entertainment as learning. Spanish for Everyone was developed exclusively for Nintendo DS console owners.
As has already been said, learning Spanish has been treated in a rather entertaining way. In the course of the game we play the role of a tourist, setting off on a journey to Mexico. Along the way we meet friendly characters who will be happy to help us to learn the most important words or phrases necessary for proper communication.
Generally you can choose between three basic fun modes, namely La Pinata, Match Tarjetas and Find Palabras. The most interesting is the latter mode. A lot of verbal puzzles have been taken care of here, which can be solved at any time of the game.
Spanish for Everyone also contains a dozen or so simple mini-games. Most of them are based on the touch screen and microphone of the Nintendo DS console. It is also worth mentioning here that they can be played at several different difficulty levels to meet the expectations and skills of both newcomers and those who are already familiar with the basics of Spanish. Visual setting plays an absolutely secondary role. The screen mainly displays hints, and we use clear buttons to navigate.
Please let us know if you have any comments or suggestions regarding this description.
Game mode: single player
Age restrictions Spanish for Everyone: Good for all ages.