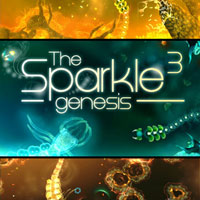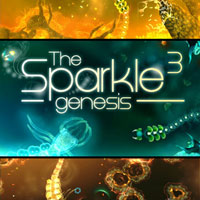 Sparkle 3 Genesis
Arcade game, in which we direct the activities of the underwater organism and lead it through the next stages of development. Unlike the previous parts of the series, the authors enriched the gameplay with RPG elements and a system of missions pushing the action forward.
Arcade | RPG elements | logical elements | Polish | top-down | indie games
Sparkle 3 Genesis
Release Date
Sparkle 3 Genesis is the third installment of arcade games series, in which the players control the actions of a small underwater organism and lead it through the subsequent stages of development. The title was developed by the independent studio Forever Entertainment.
Mechanics
Despite the fact that the game in Sparkle 3 Genesis is based on the formula developed in the previous installments of the series, the devs decided to introduce a few new solutions. During the game, we observe the action from a top-down perspective, and the game consists of traveling through twelve different worlds, avoiding dangers (for example in the form of aggressive beings exceeding the size of our protege) and eating microelements, thanks to which Sparkle grows.
Unlike in The Sparkle 2: Evo, we don't need to focus on eating the right colored food to guide the development of the animal in the right direction. Instead, the game contains RPG elements in the form of stats used to describe our creature. When we eat microelements, we gain points, which we can then assign to one of the three branches of DNA - red is responsible for the predator skills, green for endurance, and blue influences the distance from which Sparkle can absorb food. In this way, we can make our being a ruthless hunter, a peaceful herbivore, or choose the golden mean and draw on both solutions at the same time. It is worth noting that our choice is reflected not only in the appearance of the organism but also in the special skills at our disposal.
In addition, from time to time during the game, the creator of the protagonist speaks to us to have some tasks done. In addition to missions that push the story forward, there is also a place for side quests, which we don't need to complete in order to make progress in the adventure.
Technical aspects
Sparkle 3 Genesis features original visuals - locations sparkle with a blaze of bright colors and are inhabited by a variety of creatures of fantastic shapes. The game is accompanied by a pleasant, ambient soundtrack.
Game mode: single player
Age restrictions Sparkle 3 Genesis: Good for all ages.