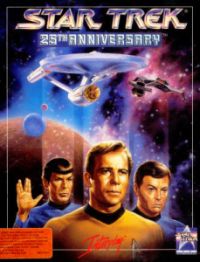 Star Trek: 25th Anniversary
PC
A point-and-click adventure game prepared on the occasion of the 25th anniversary of the popular science fiction series. In the game we control the most famous film characters, taking part in 7 missions prepared on the model of subsequent episodes of the series.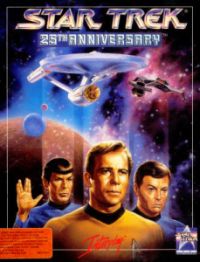 game language: English
game release date for PC:
08June1992
Star Trek: 25th Anniversary is an adventure game set in the popular Star Trek film universe. The game was prepared by Interplay to celebrate the 25th anniversary of the series, and its plot covers the first three years of USS Enterprise's space "service". The production was often advertised as the "lost fourth season" of the cycle.
The action of the game was divided into 7 episodes, reminiscent of episodes of the series. We take control of the main Star Trek characters such as Captain James Kirk, Spock and Dr. McCoy. They participate in a series of missions, the first of which involves investigating the case of demons that appeared in the mines and attack the settlers of one of the federal colonies. In our next tasks we will have to, among other things, bounce hostages from the hands of star pirates, neutralize an old nuclear silo or look for a war criminal to prevent a conflict with the Klingons. In the course of the action we meet completely new foreign breeds and we face the opponents well known from the series.
The main part of the game is realized in the convention of point-and-click adventure. In subsequent missions we control a 4-person team, and the game is mainly about exploring and solving puzzles. In order to diversify the game, however, the authors decided to introduce into the game numerous sequences of actions, during which we participate in clashes between USS Enterprise and enemy ships. The game then switches to the space simulator view and the player's task is to command the ship, fire, take care of the level of protective shields and repair damage.
In addition to the standard floppy disk edition, Star Trek: 25th Anniversary has also been released on CD. Thanks to this we can hear digitalized dialogues performed by actors known from the series, such as William Shatner, Leonard Nimoy, DeForest Kelley, James Doohan, George Takei or Walter Koenig. In the CD version, the last of the episodes, which in the original consisted only of a briefing and a dynamic sequence of fights, was also expanded.
Please let us know if you have any comments or suggestions regarding this description.
Age Rating
age requirements: everyone
System requirements
PC / Windows
Recommended: 286, 1 MB RAM, DOS