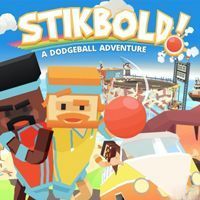 Stikbold! A Dodgeball Adventure
An arcade sports game developed by Curve Digital in which we assume control of a professional dodgeball duo. We are taken to the 1970s and introduced to Bjorn and Jerome, a dodgeball duo supported by a demanding coach.
Arcade | Isometric view | humorous | multiplayer | co-op | splitscreen | 60s and 70s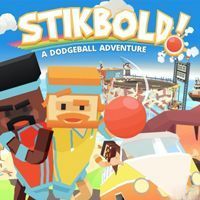 Game mode: single / multiplayer
Multiplayer mode: Internet / common screen
Stikbold! A Dodgeball Adventure for PS4, XONE and etc. is an arcade sports game that sees us assume control over a professional dodgeball duo, leading them on a path to win the world championships. The game was developed by Curve Digital, an independent British developer with over ten years of development history, including a number of PC and console ports of famed indie titles. Aside from the title in question, the studio's is also responsible for a different project known as Stealth Inc. series.
Plot
The story takes us to the 1970s. We are introduced to Bjorn and Jerome, professional dodgeball players who constantly train in order to win the world championships. The duo is supported by a demanding trainer who never misses an opportunity to rub the yesteryear's defeat in their faces. This year's tourney brings an unexpected twist – the last year's champions have been kidnapped by the devil himself. Our duo, unwilling to score the title through a simple walkover, decides to embark on a crazy journey to save the abducted opponents. The campaign is built from numerous story cut-scenes that maintain the humoristic, light-hearted feel of the game.
Mechanics
Stikbold! A Dodgeball Adventure does not attempt to introduce a realistic dodgeball experience, seeing us take part in arcade matches on circle-shaped arenas instead. We assume control over one of the duos with an objective to eliminate our opponents by hitting them with the ball or a different item found on the field at least two times. We can avoid the incoming projectiles by dodging, jumping, or by simple interception. The controls are simple and convenient, while the action is seen from an isometric perspective, and allows us to have eyes on the whole field throughout the whole match.
The story mode is characteristic for its boss encounters, which pit us against more than two enemies, different arenas with various obstacles, as well as special attacks that are utilized against our opponents.
Technical Aspects
Stikbold! A Dodgeball Adventure for PS4, XONE and etc. offers colorful visuals and a funky soundtrack influenced by music from the 1970s. The aesthetics of that era has also been a major influence on many assets, incluing interface, the arenas, as well as character models found in game.
Similar games:
Age Rating
age requirements: everyone