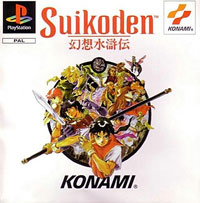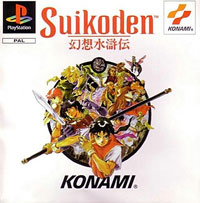 Suikoden
PS1
Japanese RPG created by Konami, in which characteristic mechanics of the genre have been mixed with innovative elements.
Suikoden

Release Date PS1

15December1995
Suikoden is the first in a series of jRPGs from Konami. The production is distinguished above all by the plot built to a large extent on political themes and a huge number of optional heroes that can join the team.
Story
The son of a Scarlet Moon Empire general, in the absence of his father, sent on another mission, starts serving in the army. He accidentally comes into possession of one of the precious magical runes, which are sought after by corrupt leaders and the court sorceress Windy. He is forced to flee the capital and ends up joining a group of rebels with a few faithful companions. When he learns of the situation in a country whose people are suffering and the authorities remain indifferent, he decides to help the rebels to create an army that will restore order and free the population from tyranny.
Mechanics
Suikoden efficiently combines typical elements of jRPGs with novelties developed by Konami. Players traditionally direct the actions of a party made up of the main character and his recruited companions, visit various regions of the empire, complete quests and face random battle encounters in a turn-based system. For successive victories, the heroes gain experience, which allows them to develop their skills. Winning battles also bring you the currency that you can invest in weapon upgrades, useful items, and armor to help you overcome more obstacles.
One of the distinguishing elements of Suicodenes is the number of heroes available to join your party. Among 107 allies that the hero encounters on his way, some support him actively in fighting, while others take part in the development of the rebel stronghold, opening up new opportunities for the player. If we collect all the available heroes, we also open up a new game ending. A characteristic feature of Konami's production is also the battle mechanics. Battles include six characters, arranged in two rows. This adds an additional tactical element, forcing the correct placement of characters according to their abilities and strengths. The adventure is diversified by occasional individual battles and great battles with the participation of entire armies. In both cases, they were based on the rules of "paper, stone, scissors".
Technical aspects
Suikoden is a jRPG, which uses graphics solutions known from the previous generation consoles. The game has been designed in 2D graphics and can enchant players who like this aesthetics with detailed sprites of characters and ingenious backgrounds. The title loosely refers to the classic Chinese novel Water Margin.
Game mode: single player
User score: 5,4 / 10 based on 27 votes.
Age restrictions Suikoden: 12+