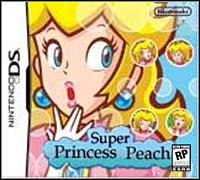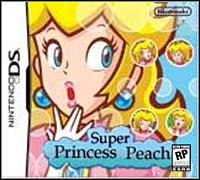 Super Princess Peach
NDS
Vendetta, the world's most famous plumber, seems to have no end. Super Princess Peach is a platform game production signed by the Japanese electronic industry giant, Nintendo.
Super Princess Peach

Release Date NDS

27February2006
developer: Nintendo publisher: Nintendo Official website

game language: English
When Bowser kidnaps Mario and Luigi and gets hold of the magical Vibe Wand, he heads off for Vibe Island with a troop of minions in tow. Intent on rescuing the Mario Bros., Peach gives chase, only to find herself affected by the vibes given off by the island. Using these newfound vibes to channel special abilities, she sets off to rescue Mario and Luigi!
* Play as Princess Peach, out to rescue the Mario Bros! Whack Bowser's minions with your parasol!
* Peach channels vibes into special abilities. Float through the air when she's happy, burn through walls when she's mad, or make vegetation grow with her tears!
* Run, jump, float, and fight through eight worlds to find Mario!
Super Princess Peach features classic Mario Bros. style side-scrolling action. Each world is composed of five levels and a boss. As you look for Mario you'll also find imprisoned Toads and collect coins. While you run and jump through levels, you must use Peach's vibes to break through impediments, scale impossibly high cliffs, and defeat enemies. To build up Peach's vibe powers, collect gems or pick up enemies with your magic parasol and absorb them.
Peach's vibe powers include:
- Joy: Peach whirls about like a cyclone, creating air currents that will spin windmills, clear away enemies, or even lift her high into the air.
- Rage: Peach catches fire, burning enemies and wood impediments.
- Gloom: Peach weeps and runs incredibly fast, during which time she's invincible. Her tears can cause plants to grow, among other things.
- Calm: Peach becomes invincible and slowly regains health.
Game mode: single player
User score: 6,3 / 10 based on 28 votes.
Pre-release expectations: 10 / 10 based on 1 votes.
PEGI rating Super Princess Peach