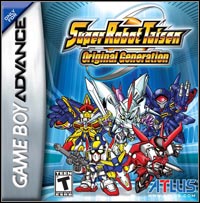 Super Robot Taisen: Original Generation
GBA
Super Robot Taisen: Original Generation is a combination of strategy and RPG. The title was created by the Japanese company Banpresto and is a continuation of the popular series, which even had its own anime series.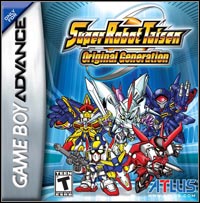 game release date for GBA:
25July2006
Nearly two centuries ago, humanity advanced into space, ushering in the dawn of a new era—the Space Era. But mankind's technological progress came to a near-halt after the devastation and turmoil caused by two meteors that struck the Earth in the early years of the 21st century.
In 179 S.E., a third meteor, Meteor 3, landed near the Marquesas Islands in the South Pacific. A research team dispatched by the Earth Federal Government discovered that the meteor contained technology previously unknown to man. An investigative committee was formed to analyze Meteor 3 and the technology within, which became known as Extra-Over Technology.
Dr. Bian Zoldark, head of the committee, reported to the EFG that the creators of Meteor 3 would almost certainly come to Earth to reclaim their technology. The EFG heeded Dr. Zoldark's warning, and began the development of humanoid mobile units called Personal Troopers.
Now, the human race watches the skies and waits for an invasion from beyond...
* Detailed combat system, including support techniques and weapon swapping!
* Dozens of customizable mecha!
* Rack up kills and improve skills to transform rookie pilots into aces!
* 40+ hours of strategy RPG goodness!
PEGI Rating