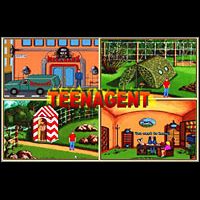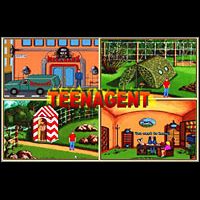 Teenagent
PC
One of the best and one of the first completely Polish adventure games. The player directs the actions of a teenager, Mark Hopper, who has to discover the mystery of mysterious theft.
Teenagent

Release Date PC

26February1994
developer: Metropolis Software publisher: Union Logic Software Publishing, Inc.

game language: English
Teenagent is one of the best and one of the first entirely Polish adventure games. In 1994 it was published in our country by CD Projekt, and its creation is the responsibility of programmers from the Metropolis Software House team. This is a classic point & click adventure game made entirely in two-dimensional graphics, modelled on the great hits of LucasArts, such as Monkey Island or Day of the Tentacle. The player directs the actions of a teenager, Mark Hopper, who was recruited completely by accident to serve in a secret RGB organization, or more precisely, he was simply drawn from the phone book. From banks in unexplained circumstances, literally in front of the guards' eyes, gold bars disappear, and no one else, as our hero has to solve the mystery of these crimes. The game starts in the RGB training camp, where after basic training we start to act. Teenagent takes place in three large locations, i.e. the RGB camp, the village and the estate of Jan Ciagwa, the main suspect in the case of unexplained thefts.
During its creation, the game looked very decent, both in terms of audiovisual performance, as well as the general level of dialogue and riddles, and in addition was full of good humour, which ensured its success and favor of players not only in our country but also abroad.
In 1995 a new version of Teenagent was released on a CD-ROM. It contained recorded dialogues of characters.
Please let us know if you have any comments or suggestions regarding this description.
Game mode: single player
User score: 7,8 / 10 based on 224 votes.
Age restrictions Teenagent: Good for all ages.
Teenagent System requirements
Recommended:
PC 486DX2 66MHz
8MB RAM