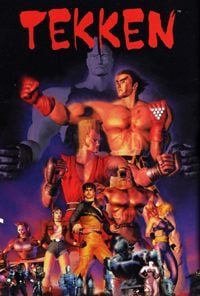 Tekken is a 3D fighting game developed by Namco, which gave rise to one of the most popular series of this genre. The title was created as a demonstration of a 3D character texturing model, but it was decided to develop it into a full game, employing developers from SEGA, responsible for the competitive Virtua Fighter series. The game was released in 1994 on arcades, and a year later it was moved to the PlayStation.
Plot
The plot of the game focuses on Kazuya Mishima. Heihachi, his father, threw from a high cliff in his youth, wanting to see if he is his real son. He was saved from death by the devil, who in exchange for the hero's soul, made him a powerful and invincible warrior. Twenty-one years later, Heihachi Mishima - already as the head of a powerful corporation - organizes an elite warrior tournament called King of the Iron Fist. One of the tournament participants turns out to be Kazuya, whose main desire is revenge on his father.
In addition to Kazuya himself, there are seven other warriors in the tournament, including the trained killer Nina Williams and the mechanical ninja Yoshimitsu. Each character has something to prove and has unique attacks. Each hero also has a personal boss, which we will have to face in the eighth round of the tournament. The final rival, however, is Heihachi Mishima.
Mechanics
The character models are made in full 3D, but battles take place in unlimited flat arenas. The game uses an original control model, in which each of the limbs is controlled by a different button. The combos, modeled somewhat on the Killer Instinct combos, also play an important role. Unlike the arcade version, all bosses in the game become fully playable characters once they are unlocked. The plot is enriched with numerous FMV cut-scenes.
Similar games:

Fatal Fury Special
Age Rating
age requirements: 12+
System requirements
Sony PlayStation 3
Uses: PlayStation Network
PlayStation Portable
Uses: PlayStation Network
PlayStation Vita
Uses: PlayStation Network
Android OS
Requirements (AND): Xperia Play