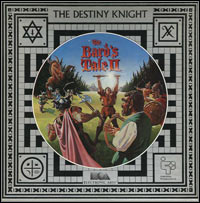 The Bard's Tale II: The Destiny Knight
PC
Although the destruction of the power of Dark Mangar brought the inhabitants of Skara Brae the longed-for peace of mind, the fantastic world known from The Bard's Tale was still in danger. This time, another wizard, Lagoth Zanta, turned out to be the leader of misfortune.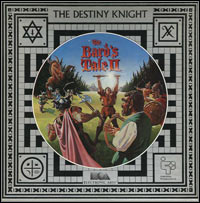 game language: English
game release date for PC:
23April1988
The Bard's Tale was still in danger. This time, another wizard, Lagoth Zanta, turned out to be the leader of misfortune. Disturbed by no one, the nemesis broke the Wand of Destiny by dividing it into seven different parts and scattered it in the farthest corners of the land. The magic object protected the area for seven hundred years - without it chaos will reign in the whole kingdom.

In the second installment of the cycle The Bard's Tale, entitled The Destiny Knight, a brave team of heroes decides to find the Wand and use it against the sorcerer. The program is designed for veterans of the original and requires the use of advanced characters (it is possible to import a group that freed the city of Skara Brae from the influence of Mangara). Beginner players can quickly catch up by visiting a large dungeon prepared especially for this occasion. Fighting monsters is much easier here and allows you to quickly gain the necessary experience. As usual there are seven races to choose from (man, elf, dwarf, lowland, semi-elf-, semi-arms and gnomes), six traditional professions (warrior, paladin, carnage, bards, hunter and monk) and five professions related to the use of magic (reaching the highest level of initiation - Archmage - is necessary to complete the game). To avoid boredom, the authors have implemented more than a hundred monsters, twelve premiere spells, and also increased the exploration area by half. In The Destiny Knight we will visit six cities, almost twenty-five dungeons and a huge wilderness connecting all the locations.

The game uses the same engine as the original - in this respect no innovations have been introduced. We observe the world from the perspective of the first person, by means of a small window in the upper left part of the screen. However, it is not the visual setting that proves the power of this game. As usual, it is a complex world, difficult skirmishes with monsters and numerous logical puzzles - also those that need to be solved quickly in the set time.

Please let us know if you have any comments or suggestions regarding this description.

Game score 8.1 / 10 calculated out of 83 players' votes.
Age Rating
age requirements: everyone