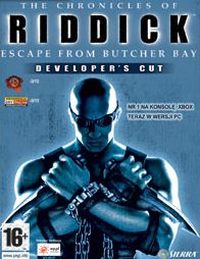 The Chronicles of Riddick: Escape From Butcher Bay - DC
The Chronicles of Riddick'. (in Poland known as "Riddick's Chronicles") became an inspiration to create a game under the same title as the screening itself.
Action | FPP | science fiction | videos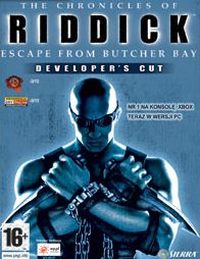 Escape From the Ordinary.
You are Riddick, the most wanted man in the universe in an original story set before the events in Universal Pictures' The Chronicles of Riddick (starring Vin Diesel), and the breakout hit Pitch Black, which first introduced the enigmatic anti-hero Riddick. Make a dramatic escape from Butcher Bay, the galaxy's deadliest prison, in this intense fusion of first-person shooter, fighter, and stealth adventure.
NEW FEATURES FOR PC:
- Player controlled Riot Guard - get in and attack
- Two NEW areas packed with high-action gameplay
- New enemies including inmates with body armor and other defensive equipment
- Exclusive Developer's Commentary allow players to hear what the developer of the game has to say
EXISTING FEATURES:
- Compelling full in game voice-over by Vin Diesel and other critically acclaimed voice talent
- Hybrid of game-play elements: classic FPS, stealth, strategy, and fighting
- Unbelievable cutting-edge technology places you in an ultra-realistic world
- Free form level design lets you explore and escape at your own pace
PEGI Rating
System requirements
PC / Windows
Recommended: Pentium 4 1.8 GHz, 256MB RAM, graphic card 64MB (GeForce 3 or better), 4 GB HDD