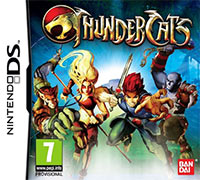 game language: English
game release date for NDS:
30October2012
THUNDERCATS HO!
After generations of prosperity and peace, Thundera has fallen into despair. The once proud nation was led into ruin by the Lizard army and its leader, the evil sorcerer Mumm-Ra, as well as Grune the Destroyer. Few Thunderians survived the attack, but those who did formed together to find a way to stop the army's reign of terror and end Mumm-Ra once and for all. The ThunderCats' leader is the young heir to the Thundera throne. With his powerful Sword of Omens, he fights through the Lizard army, calling upon his companions and his sword for assistance. But does the cub have what it takes to salvage the honor of his nation?
FEATURES:
Become Lion-O and run, jump and slash your way through action ripped straight from the new animated series.
Master all of Lion-O's attacks and wield the incredible power of the Sword of Omens.
Summon the rest of the ThunderCats - Call upon Tygra, Cheetara, Panthro, WilyKat & WilyKit!
Exciting swordsplay, intense battles and more!
PEGI Rating