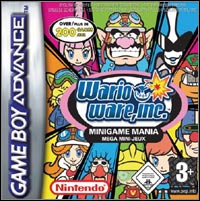 WarioWare Inc.: Mega MicroGame$
GBA
WarioWare Inc.: Mega MicroGame$ is a collection of approximately 200 crazy mini-games for Game Boy Advance users, most of which refer to the popular series in Nintendo's publishing portfolio.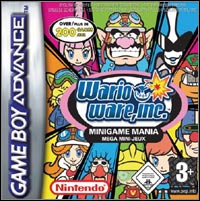 Game mode: single / multiplayer

game language: English
game release date for GBA:
21May2003
You can't really say that Wario is greedy. He's just, uh, financially motivated! Always on the lookout for his next get-rich-quick scheme, Wario stumbles upon the lucrative video game publishing market. Like any aspiring entrepreneur, Wario starts his own company, called WarioWare, Inc. With the help of his friends, he has released over 200 of the wildest and weirdest games the world has never known. The result? Pure instant-action insanity.
Features
* Play over 200 of the craziest, most bizarre games ever devised.
* Minigames vary wildly, including brushing teeth, picking someone's nose, cracking an egg over a moving frying pan and shaking a dog's paw. Plus a couple hundred more!
* Each microgame lasts just five seconds--an on-screen time bomb tracks your remaining seconds.
* Only a single Game Pak and Game Boy Advance system are required for multiplayer.
* Super simple controls and lighting-fast gameplay make for pick-up-and-play perfection.
* You'll be amazed at how much fun you can have in just five seconds!
You are challenged by Wario and each of his developer buddies to beat all of their games. Each developer specializes in a particular genre of game, so the sets of microgames follow a theme. One developer even has developed games based on Nintendo classics, including five-second snippets of Super Mario Bros., F-Zero, Balloon Fight and The Legend of Zelda. The more microgames you defeat, the faster and more difficult they become. Directions on how to play aren't provided, so much of the challenge comes from figuring out how, precisely, to win. In addition, the games also appear in random order, so you can't simply memorize what you're supposed to do each time--your only hope is to think fast!
After defeating the required number of games, you'll enter a boss encounter. These games have no specific time limit and are often much more challenging than the preceding mini-games. Successfully defeating the boss unlocks the next level of developers. If you defeat all of the challenges you encounter, you'll finally square off against Wario himself.
In addition to the wacky games cooked up by Waro's dedicated team of game developers, you can unlock excellent single player bonus games that'll have you shreddin' on a skateboard and piloting a paper airplane. On top of that, you can unlock several multiplayer games that don't require another GBA to play--you can both jam against each other on the same GBA!
Bottom Line
With the release of WarioWare, Inc.: Mega Microgame$, we now know what weirdness brews in Wario's twisted mind--brilliantly strange game design genius! WarioWare offers up hours of curiously addictive, wildly creative gameplay. Even if you've been a hardcore gamer since you were big enough to hold a controller, it's safe to say that you've never played anything like this--it's definitely one game (or 200, depending on how you look at it) you have to play to believe!

Game score 6.9 / 10 calculated out of 26 players' votes.
Similar games:
PEGI Rating
System requirements
Game Boy Advance
Uses: link-cable