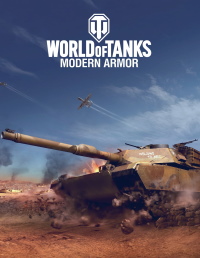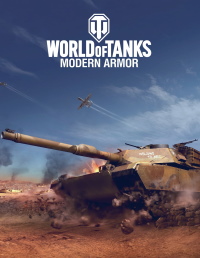 World of Tanks: Console
World of Tanks: Mercenaries
A massively popular MMO game, created and administered by Russian developer Wargaming.net. World of Tanks lets players control tanks and take part in exciting battles against living opponents.
Action | tanks | play for free | network | co-op | simulation elements
World of Tanks is a free-to-play MMO shooter in which the players take control of the eponymous armored tools of war. The game was developed by the Chicago division of Wargaming.net, the creators of Order of War and the Massive Assault series. The initial version of the game was released in the spring of 2011 for PC, but since the production proved to be incredibly successful, it was eventually converted to 7th- and 8th-generation platforms as well. Later on, World of Tanks Blitz, a somewhat simplified mobile edition of the title, and World of Tanks Generals, a strategy card game, were released.
Gameplay
The essence of World of Tanks for PC, PS4 and etc. is competitive multiplayer gameplay in short mini-campaigns and tournaments as well as single battles fought in one of several game modes. The action is shown from third-person perspective, featuring simulation complemented with action, strategy, and RPG elements. The production offers more than 300 different tanks and armored vehicles (roughly 150 were present in the initial release) from various historical periods to choose from; from the World War I to Cold War era. The vehicles come from different countries (the USA, the Soviet Union, Germany, France, Great Britain, Japan, and China) and are divided into five main classes: light, medium, and heavy tanks, tank destroyers, and self-propelled guns. Moreover, each of those is assigned to one of ten tiers that determines their advancement level.
Starting out, we are given tier 1 vehicles only. We unlock access to the remaining ones, divided further into country-specific technology trees, as we progress and gather experience. Furthermore, we may buy a number of enhancements, such as engines, turrets, chassis, guns or radio systems, for the credits we earn playing. What is interesting, all of them have their historical justification — either their prototypes existed or they were actually introduced into service at some point. We might also purchase a myriad of useful gadgets, including camouflage, modern targeting systems, repair kits or first aid kits, with which we can treat wounded crew members. It is also worth of mention that the personnel also gains experience, which translates into improved performance on the battlefield.
Game modes
The production of Wargaming.net offers an incredibly wide range of game modes, which is constantly broadened with subsequent updates. Among the most important ones we can find the random battle, squad battle, clan war, company, assault or the stronghold mode. Two 15-member teams (PlayStation 4 has this number increased to 30), which can be additionally divided into 2- or 3-member platoons, may participate in a single battle. As befits a proper MMO title, World of Tanks does not lack the possibility of joining or creating a clan (with a maximum of 100 members) and competing with other clans for control over areas on the world map.
Technology
World of Tanks for PC, PS4 and etc. is powered by the BigWorld Technology engine modified for the purposes of the game. Thanks to the high quality visuals and simulation-focused gameplay, we may feel like a real tank commander. The destruction model is especially noteworthy. It takes into account such factors as the shell's hit angle, armor thickness and the like, and the calculations of the shell's chance to penetrate individual modules and damage taken by the crew is depicted with percentages.
Additional information
World of Tanks was awarded a number of industry awards, including the most innovative game at E3 2010 as well as the Golden Joystick Award for the best MMO of 2012. Moreover, the game was recorded in the Guinness World Records for the largest amount of players logged in at the same time on a single MMO game server. On January 21st 2013, 190.541 players were playing simultaneously on a Russian server.
Game mode: multiplayer Multiplayer mode: Internet
User score: 3,6 / 10 based on 1052 votes.
Pre-release expectations: 7.6 / 10 based on 132 votes.
PEGI rating World of Tanks: Console