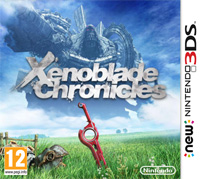 game language: English
game release date for 3DS:
02April2015
Xenoblade Chronicles 3D is a conversion of the famous Xenoblade jRPG game created by Monolith Software for the Wii console. Tetsuya Takahashi, known from the Xenosaga series, also took part in the work on the title. The production is dedicated exclusively to the New 3DS pocket (normal and XXL version), which has additional buttons, a second analog knob and slightly more power. Conversion developers, the Monster Games team, decided to take advantage of these benefits to provide handheld users with almost the same handheld game as on Wii. Unfortunately, this has caused considerable inconvenience, as Xenoblade Chronicles 3D does not work with earlier 3DS models.
The main character is the orphaned 18-year-old Shilk, who in the past took part in a war against the Kishin troops who attacked his village. What seems original is the place of action. It takes place on the bodies of two gods who once fought against each other. One body is inhabited by humans, the other by mechanical beings. The storyline tells the story of how people prepare for the attack of an enemy race.
The game offers large, varied areas for exploration. The main character not only runs in flat locations, but also climbs the mountains or swims. On the other hand, in order to prevent tedious movements between already visited locations, the creators added the possibility of teleporting between them. The mechanics of the game is diversified by changing times of day and night. This affects not only the appearance of the places visited, but also the events themselves - some characters can only be met at the right time.
A treat for fans may be the fact that Yoko Shimomura is responsible for the music in this production, which has recorded soundtracks to such positions as Kingdom Hearts or Parasite Eve.
Please let us know if you have any comments or suggestions regarding this description.

Game score 9.0 / 10 calculated out of 37 players' votes.
Expectations before the premiere: 9.8 / 10 calculated out of 5 players' votes.
PEGI Rating