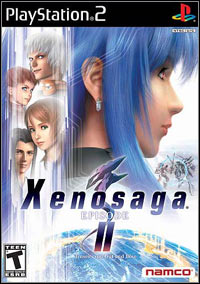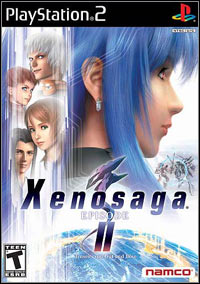 Xenosaga Episode II: Jenseits von Gut und Böse
PS2
Xenosaga Episode II: Jenseits von Gut und Böse is the second (after Der Wille zur Macht) part of the series of cRPG products from the Country of Cherry Blossom.
RPG | TPP | science fiction | jRPG | PlayStation exclusive titles
Xenosaga Episode II: Jenseits von Gut und Böse

Release Date PS2

15February2005
developer: Monolith Soft publisher: Bandai Namco Entertainment Official website

game language: English
Four thousand years into a war-torn future, Earth has been abandoned and mankind forges its existence in deep space, locked in eternal struggle with the malevolent, alien Gnosis. With sophisticated weapons and robotics technology, humanity wages an epic battle for survival against the onslaught of the Gnosis.
In a desperate bid to fend off extinction, the search continues for the Zohar, a legendary artifact rumored to be capable of eradicating the Gnosis and ushering in an era of universal peace. Rejoin Shion, KOS-MOS and their companions in the search for this hallowed artifact in the enthralling 2nd chapter of this landmark multi-part RPG saga.
* Devastate your opponents with innovative cooperative combat techniques, refined boost systems and a unique zone attack/zone break mechanic.
* Engage your enemies with larger, more powerful mechs, now featuring their own independent, tactical battle system.
* Customize your party with a vast array of power-ups, advanced attacks and over 100 different skills.
* Explore lush, expansive environments and enjoy detailed, realistic character designs.
* Challenge more than 30 side quests for hours of action-packed adventure.
Last updated on 10 December 2007
Game mode: single player
Media type: 2 DVD
User score: 7.8 / 10 based on 81 votes.
PEGI rating Xenosaga Episode II: Jenseits von Gut und Böse
Xenosaga Episode II: Jenseits von Gut und Böse System requirements