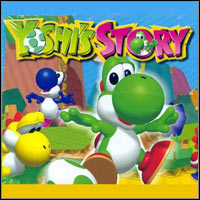 Yoshi's Story
Wii
A joyful platformer from the Nintendo 64 console, we play the role of a dinosaur, collecting fruit and funnyly devouring the enemies we meet.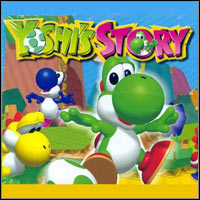 game release date for Wii:
17September2007
The evil Baby Bowser has cast a spell turning Yoshi's Island into a picture book. Worse yet, the Super Happy Tree has been stolen, making the island dark and gloomy. Players must take control of six Yoshis, each a different color, and travel through six pages (worlds) of platforming adventure to recover the tree and return the island to normal! Featuring huge character models and bright, vibrant colors, the game's various environments (such as woods, caves, mountains, and oceans) come alive in a uniquely gorgeous 2½-D look. Eat fruit, avoid enemies and obstacles, and throw eggs from the Yoshis' never-ending supply in your quest to stop Baby Bowser's plan from succeeding. If you're good enough, you can aim for higher scores by being picky about the fruit you eat. And who knows, you might even find the mysterious black and white Yoshis!
Similar games:
PEGI Rating