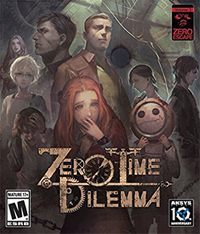 Zero Time Dilemma for PC, PS4 and etc. is the third instalment in the excellent adventure/logic puzzle game series by Spike Chunsoft. The game's director is Kotaro Uchikoshi, who also directed the previous instalments, released for PS Vita and Nintendo 3DS. Published by Aksys Games, Zero Time Dilemma is the series' finale and was also released for PC Windows via Steam.
Plot
The game's setting is a research facility on Mars, where the object of study is how relationships between people living in a closed, secluded space are formed. The plot takes place between the events of the previous games; it's a sequel of part one and a prequel of part two. Zero Time Dilemma features the characters that you have met before, such as Carlos, Q and Akane. Once more they are involuntarily drawn into a game, in which the stake is their lives. To survive, they need to get out of the locked room, and their fate is in the hands of a mysterious character called Zero. The protagonists are divided into three teams and have to fight for their lives.
The event of Zero Time Dilemma are not linked to the plot of any of the previous instalments. They are an independent story, which contains answers to many questions from the previous games in the franchise.
Mechanics
Zero Time Dilemma is divided into 90-minutes-long stages. Every chapter consists of conversations between the characters and logic puzzles you have to solve in order to get out of the room. Every stage ends with you having to make a moral decision, which affects the characters' fate. You can switch between the characters, which enables cooperation between them. The game utilizes a random algorithm, which can work differently in the same plot situation during a particular Zero Time Dilemma playthrough. In means that replaying the game changes the consequences of your actions, and the mechanisms that saved the characters' lives before can now kill them.
After every stage, the characters lose consciousness and don't remember what happened upon waking up. Every completed chapter is marked on a special tree, so that you can know which fragment of the plot you have revealed. During both choosing and playing the next sequence, neither you nor the characters know the chronological order of the game's events—you have to sort out the story on your own.
Technical aspects
Zero Time Dilemma for PC, PS4 and etc. features fully 3D visuals, stylized to look like Japanese animation, both during the gameplay and the cutscenes. Instead of walls of text typical for the previous instalments, the production utilizes short animated sequences. From the very first minutes, the game is complemented by dark, atmospheric soundtrack. The characters' dialogues are fully voiced and available in Japanese and English.
The game is sold digitally in Europe and the U.S.; it is also possible to purchase a physical copy in the U.S.
Age Rating
age requirements: 18+
System requirements
PC / Windows
Recommended: Intel Core i5-3570K 3.40 GHz, 8 GB RAM, graphic card 1 GB GeForce GTX 650/Radeon HD 7700 or better, 4 GB HDD, Windows 7
Minimum: Intel Core i3-530 2.93 GHz, 4 GB RAM, graphic card 1 GB GeForce GTX 650/Radeon HD 7700 or better, 4 GB HDD, Windows 7