News
guides
26 September 2023, 19:26
Genshin Impact - Is Furina not a God? What Happened to Hydro Archon
Leaks about Hydro Archon Furina, upcoming character in Genshin Impact 4.2 confused fans. Furina is depicted with a Vision – is she no longer a God? We speculate about the reason in this article.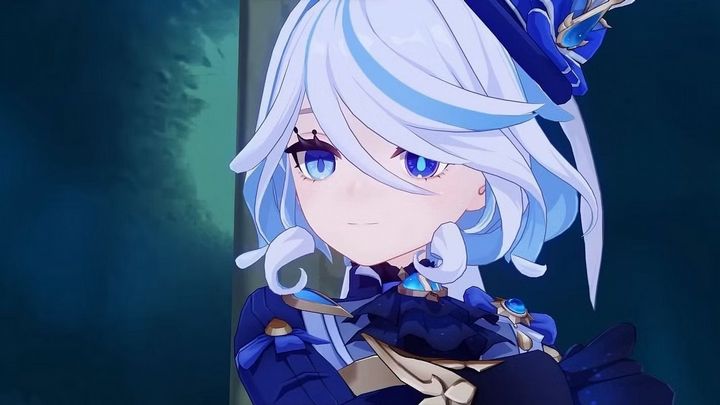 Source: Genshin Impact, developer: HoYoverse
i
Recent leaks about Furina from Genshin Impact have caused fans to wonder if the Hydro Archon will lose her status during the Fontaine storyline. In the article below we discuss the possible future of Furina in the upcoming updates.
Furina Leaked Splash Art Gives Rise to Theories
The following article discusses leaks, which are unofficial information subject to change. What is more, it may contain potential major spoilers. Proceed at your own discretion.
On September 24th, a leaked splash art for Furina – which is the graphic that appears when a character is obtained through Gacha – has been posted by Mero, a known source sharing Genshin Impact leaks. Fans have noticed that Furina's appearance as a playable character differed from her design as an NPC. The new graphic features Focalors with a different hairstyle – short hair rather than twintails, a darker color scheme on her clothes, and most notably, a Vision at her waist instead of a plain blue jewel she has been depicted with previously.
The confusion grew when, a day later, the official Genshin Impact accounts shared Furina's official introduction – so called drip marketing – showing the design that already appears in game.
Some players have taken it as proof that Furina's new look has been fabricated. However, there are reasons to believe otherwise.
Furina with a Vision – is Furina no longer an Archon?
As fans familiar with Genshin Impact know, Furina having a Hydro Vision in her splash art is significant, as this could mean she is no longer the God of Fontaine.
However, fans should remember that all previous Archons have lost their Gnoses during the respective storylines of their Nations. It is highly probable Furina's Gnosis will also be taken away by the Fatui Harbinger Arlecchino, who is active in Fontaine.
It is possible that Furina will have an experience similar to Wanderer, who did not posses a Vision as the NPC called Scaramouche. He received it during the plot that lead to him becoming playable, as a result of a deep personal change. Like Furina, Wanderer also got a design update from his time as Scaramouche.
That brings us to the question - why did the official Genshin account introduce Furina with the old design? It could be to avoid major spoilers. Furina obtaining a Vision would be a huge plot twist and revealing it ahead of time would spoil the player's intended experience of the story.
In the future, Furina might receive a reintroduction – such as Lyney, Lynette and Freminet, when they were officially revealed as members of the Fatui.
Are the Furina design leaks fake?
In any case, it is unlikely that the Furina splash art leak is fake, as it is a very high quality graphic that would require a lot of time and effort to produce. It fits with the art-style of Genshin Impact, and does not appear to be created through AI. The splash art was shared by one of the most reputable leakers, as well. What is more, a 3d render featuring the updated design has also surfaced in leak sharing communities, adding legitimacy to it.
Fans will have to wait until version 4.2, which is expecting to drop at the beginning of November, to learn the mystery behind Furina's new design.
If you're interested in the story of Genshin Impact, check out also: