News
video games
16 October 2019, 11:07
League of Legends Coming to Mobile and Consoles
Riot Games announced that League of Legends, after 10 years of dominance in the PC market, is coming to consoles and mobile devices. The new version of the iconic MOBA game will be subtitled Wild Rift. The creators plan to see the mobile version as soon as 2020. They also give an initial specification.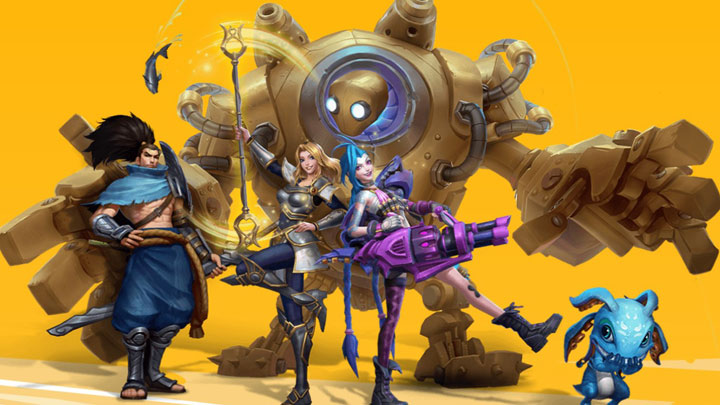 On October 15, Riot Games officially announced that League of Legends will hit consoles and mobile devices in 2020. The new incarnation of the currently most popular MOBA game will be called League of Legends: Wild Rift. The game will not be just a regular port - the title will be rebuilt from scratch. On the official Wild Rift website we can read that a new 5v5 map has been designed, adapted for shorter and more dynamic gameplay, as well as slightly changed controls. As Michael Chow, executive producer of Wild Rift, stresses:
"Many of you have reported that playing LoL on PC is sometimes difficult to integrate into your lifestyle, which changes from week to week, from month to month or from year to year. You also told us that you are simply not able to play with many of the friends you would like to play with, also because of their lifestyle, but also because learning League of Legends takes a lot of time, the matches are very long and so on. Therefore, we have built a new map for consoles and mobile devices, where matches will last 15-20 minutes, as well as a controls layout that is intuitive and fun, and at the same time is very comprehensive."
Below you can listen to the entire statement:
On the official Wild Rift website we also read that this edition, like the PC version, will be offered completely free of charge, and we will only pay for cosmetic items. We will be able to unlock all champions without investing a single dollar. It is emphasized that League of Legends: Wild Rift will launch with about forty champions.
Chow points out that PC players will be compensated for the value deducted from the game by the re-build by bonuses that fans will receive when they log in to Wild Rift from their current Riot account.
Below you can see the game's official trailer, it should be noted that the gameplay presented here comes from the mobile version:
That's fine and all, but when?
According to the official website, Riot Games will start releasing alpha and beta versions at the end of this year, starting with China (who would have guessed?). The studio plans to make the mobile version available to the general public by the end of 2020. The console edition, on the other hand, should appear some time later.
What platforms?
Riot informs that when it comes to mobile devices, League of Legends: Wild Rift will hit the iOS and Android systems. More information on consoles will be announced in 2020.
How does Wild Rift differ from the PC version?
The studio emphasizes that the game is actually built from scratch. New models, animations, mechanics and others - but at the same time the creators remain faithful to the original premise that everyone knows and loves.
"We didn't just want to port the PC League of Legends 1:1 - we want to make sure that Wild Rift will look like a game designed specifically for the new platforms and make some improvements."
Will it be possible to combine Wild Rift and PC gameplay?
It won't be possible. The creators say that the games differ in several important ways. They add that a combination of these platforms would require compromises that would interfere with the integrity of the game. They want playing LoL to be fair and not open to abuse regardless of the platform,.
However, we can read that during the year, larger special offers and events will be synchronized between all platforms. The creators also do not exclude the possibility of cross-play between mobile devices and consoles.
Minimum hardware requirements?
Riot plans to make Wild Rift accessible to the widest possible audience. They provided approximate, preliminary specs:
For Android - equivalent to Samsung Galaxy A7: 1 GB RAM, Qualcomm Snapdragon 410 processor, GPU Areno 306.
For iOS - Wild Rift is to be adapted to iPhone 5S and later.
More information soon.